The Builders and The Butchers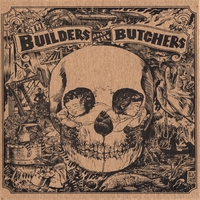 You know all those news stories about companies dumping shit in the water and giving, like, entire communities leukemia (e.g., those depicted in A Civil Action, Erin Brockovich, etc.) or whatever? There seems to be something similar going on in Portland, Oregon, only it's turning the city's population into frigging indie rockstars. I don't have the scientific research to back that up, but I can't think of any other obvious explanation for the influx of PDX goodness lately. The latest Portland band to win my heart is The Builders and The Butchers.

They released their self-titled debut album last month, and I feel downright fortunate that a copy found its way across the country for my consumption. Williamette Week dubbed them "Americana Gothic revival rock" and that seems a fitting description. They play a brand of dark folk with intense vocals and an instrumental setup that is all over the map -- strings, banjo, washboard, tambourines, mandolin, etc. are in the mix along with the traditional guitar and drums. Imagine Stone Jack Jones with sing-along choruses and two-step numbers, or The Decemberists if they abandoned sea shanties in favor of spirituals. There are also reports coming in that their live shows kick ass too, although they seem to be restricted to the northwest for now. Dammit.

This album is outstanding, folks. Check it:

The Builders and The Butchers - Black Dresses
The Builders and The Butchers - Bottom of the Lake

The release is available from CD Baby. To hear more tracks and whatnot, hit up their Myspace.

ELSEWHERE...

After you check out B&B, head over to Gorilla vs. Bear to sample the first track from the forthcoming St. Vincent album. I'm not sure how the hell to categorize it, but it's pretty nifty.

If you're in Atlanta/Athens, remember that the karaoke Of Montreal set is at the 40 Watt tonight, with support from Elf Power and Dark Meat. Alex and I will be there, for it will awesome. I'll be the goober in the Cubs hat.