Criminal Records sale and Vinyl Harvest, this weekend in Atlanta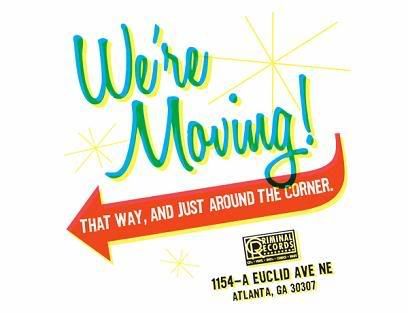 Atlanta consumers note that C&T's friends at
Criminal Records
(466 Moreland Ave., Atlanta) are up to big things this weekend. Starting tomorrow the store will have most items discounted to lighten inventory before their move to the new storefront. Sounds like a great opportunity to pick up some new music from your wish list. The sale starts Thursday, October 9, and runs through Sunday, October 12.
Also on Saturday, October 11, is a big event for vinyl enthusiasts headed by kickass bassist, Criminal mainstay, great guy, and Howard the Duck enthusiast Shannon Mulvaney. Shannon promises that the Little Five Points Vinyl Harvest will have "a fun environment," several local DJs, and that "[n]obody will act like an asshole if you don't know the value of a record." The event will take place in the cafeteria of the
Little Five Points Community Center
(1083 Austin Ave.).
Thanks to
Crib Notes
for the details.