The Avett Brothers at Variety Playhouse
On Saturday (4/19) I went to Atlanta for both the Record Store Day festivities at Criminal Records and the Avett Brothers show at Variety Playhouse. I wound up shopping more than enjoying the music at Criminal, though I did see part of Club Awesome's indoor set and hear a couple bands in the background outside. My finds at the sidewalk sale included records by Diplomats of Solid Sound, Birdmonster, Good Friday Experiment, The Close, Bunnygrunt, and an Arcade Fire import, all for about $10 total. I also bought the new 7" from Nomen Novum, which I had planned to buy next time I hit Atlanta. Not bad.


The Avett Brothers show was, in a word, satisfying. I won't try to compete with Julia's great review
at Fear of Arthropods
, but I'll say a few words about the show. I hadn't seen them in a couple years, and certainly not since they became the popular touring act they are now. I completely understand the hype though, as they've created an engaging and energetic live show. The setlist, courtesy of
the Avett Brothers bulletin board
:
Murder in the City, When I Drink, Paranoia in Bb Major, Laundry Door, Die Die Die, Distraction, 74, PGF Raleigh, Salina, Wanted Man, And it Spread, Late in Life, At the Beach, Denouncing November Blue, Weight of Lies, Colorshow*, The Fall*, Go to Sleep*
Encore: Talk on Indolence, My Heart Like a Kick Drum
Encore 2: If It's the Beaches
*with Paleface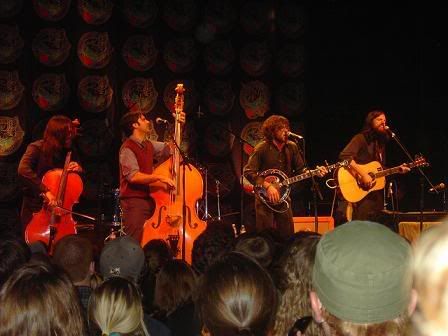 The musicianship was impressive, and the crowd
completely
swept up in it all. It was nice to see the band live again since I wasn't terribly fond of
Emotionalism
, as it was a great reminder of what they have going for them. I'd certainly recommend the live show, and suggest seeing them now before they move up to bigger venues. It'll happen soon.
The Avett Brothers - Die Die Die
The song that opened the show, "Murdered in the City":