My Unborn Children - Foolish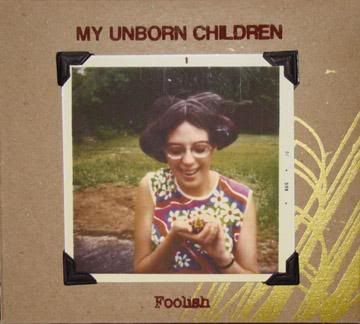 Regular C&T readers may already be familiar with quirky Athens popsters
Ice Cream Socialists
. A few months back their Talia Bromstad (accordion, vocals) released her first solo album,
Foolish
, under the name
My Unborn Children
.
Bromstad recorded
Foolish
largely on her own, and it's a major departure from the frenetic material of her other band. It's mostly a mid-tempo blend of folk and electronic music with an emphasis on keyboards, programmed beats, and pedal steel along with her signature accordion.
Foolish
is an interesting, heartfelt, and promising solo debut upon which I'm sure Bromstad will improve in the future.
My Unborn Children - Impossible Birds
My Unborn Children - Madness
You can order
Foolish
through
their Myspace page
.