Cars Can Be Blue denied entry to UK; limited benefit pressing of debut LP coming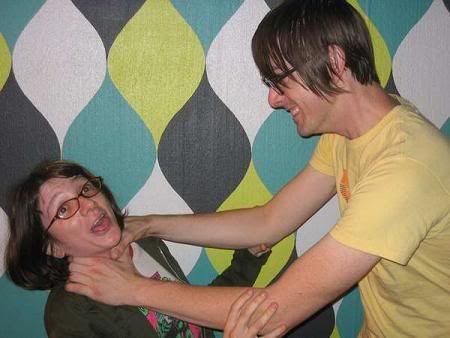 Nearly two weeks ago, Athens band
Cars Can Be Blue
set out for Europe. The plan was to play a two-week tour in the UK with HHBTM labelmates
Hotpants Romance
, who are natives of that country. Unfortunately for CCBB's Nate Mitchell and Becky Brooks, things did not go as planned.
A series of snafus with British immigration led to CCBB being denied entry to the UK and sent home. Along the way Nate and Becky faced questioning, detention, panic, and passed along a CCBB shirt to an Iranian cellmate. Nate has written about the whole experience, and you can
read it (.pdf) for yourself
. An excerpt:
At this point, I was nearing my breaking point.

Tired, fatigued, disoriented, separated from my bandmate, I became a bit hysterical.

Where was I being taken? "Oakington" and that is basically all the information I was provided.

I had been told I was going to Oxford, but now I was being taken someplace else?

What the fuck was going on?





It was difficult to gauge how long the next van ride was, probably another hour and a half or two hours.

It all seemed incredible, absolutely incredible.

I was being treated like a prisoner, a dangerous terrorist or something equivalent, all because my stupid band had booked some shows in the UK without a work permit?
It's a fascinating cautionary tale for musicians who travel overseas. As Nate notes in his concluding paragraph, "All I can say to those in bands who may be considering overseas touring, make damn sure you have your shit straight before you get on that plane!"
To make up for the financial losses associated with the lost airfare, scrapped UK tour, and legal fees, the band's label is pressing a limited run of 100 copies of CCBB's debut album
All the Stuff We Do
on vinyl. They promise it will include bonus material such as a silkscreen sleeve and a CDR of the album. It is currently being pressed at the plant, and will ship in January 2009. You can
pre-order it now from HHBTM
, and pick up their current
Doubly Unbeatable
while you're at it.
Cars Can Be Blue - Coat Tails
[from
Doubly Unbeatable
]
Cars Can Be Blue - I Used To Think
[from
All the Stuff We Do
]
Upcoming shows:
12/18 Caledonia Lounge, Athens, GA (w/ Howlies, Bubbly Mommy Gun, the Fish Schticks)
1/17 Caledonia Lounge, Athens, GA (w/ Bunnygrunt, Tunabunny, Grand Prize Winners from Last Year)