Casper & The Cookies to release 'Modern Silence' on May 12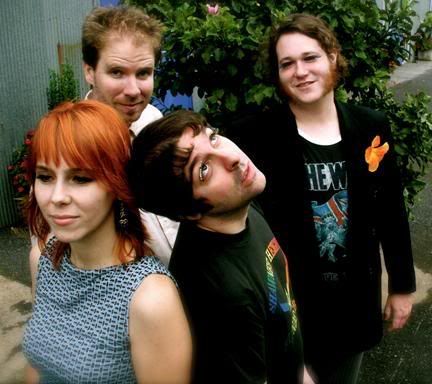 Athens band Casper & The Cookies got a lot of blog attention last year with a series of exclusive releases
here and elsewhere
. Now they have announced that the full album they were working on has a release date. Modern Silence will be released by Happy Happy Birthday To Me on May 12, just in time to rock out after final exams.
The band has provided two teaser tracks, one of which is new to circulation (and name-checks another prominent Athens musician):
Casper & The Cookies - Little King
Casper & The Cookies - Pete Erchick Bicentennial Service Area
The final track on the album features 35 musicians including Robert Schneider of Apples in Stereo, The Late B.P. Helium, and Vanessa Briscoe-Hay of Pylon. Should be interesting.
The band goes on tour today, and will play Athens on April 10:
3/11 - Jacksonville, FL - Club TSI
3/12 - Orlando, FL - Will's Pub
3/13 - Gainesville, FL - Common Grounds
3/14 - Valdosta, GA - Vito's Rock 'n Roll Pizzeria
3/15 - Panama City, FL - Gallery Above
3/16 - New Orleans, LA - Dragon's Den
3/17 - Mobile, AL - Alabama Music Box
3/18 - Lafayette, LA - Blue Moon Saloon
3/19 - Austin, TX - SXSW
3/20 - Austin, TX - SXSW
3/21 - Dallas, TX - The Cavern
3/22 - Denton, TX - TBA
3/23 - Little Rock, AK - ACAC
3/24 - Memphis, TN - Murphy's
3/25 - St. Louis, MO - The Firebird
3/26 - Bloomington, IN - Cinemat
3/27 - Indianapolis, IN - Locals Only
3/28 - Louisville, KY - Glassworks
4/10 - Athens, GA - 40 Watt