Attractive Eighties Women CD release show, Sat. 1/12 at The EARL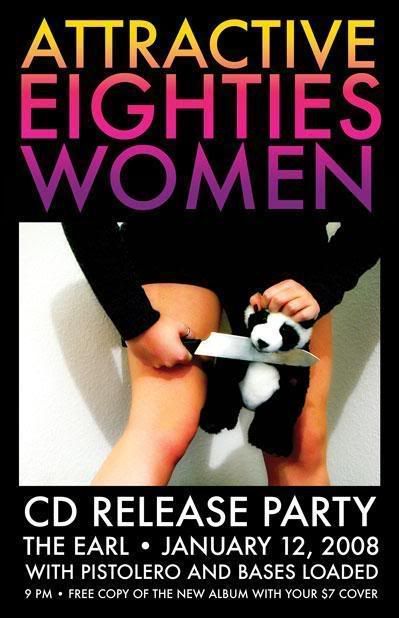 Atlanta's goofball rockers in
Attractive Eighties Women
have their debut CD due on January 15, and this Saturday night (January 12) they celebrate with a show at
The EARL
. Everyone in attendance will receive a free copy of the band's new album. Playing under the names of Phoebe Cates, Kelly McGillis, Christie Brinkley, Shelley Long, and Carrie Fisher, the band has been entertaining locals since 2005. The album,
Coup D'é Ta-Ta's - Attractive Eighties Women Live
, captures them in their element. The tracklist and a couple samples:
1. "We are Attractive Eighties Women"
2. Master Cylinder
3. Gonna Kill Myself (Because of You)
4. They Shoot Hipsters, Don't They?
5. Pandamonium
6. Gonna Throw a Party (When You Die)
7. Titty City
8. Murder Kroger
9. Yeah Yeah Jager
10. "Patrick broke a string"
11. Lightning Bolt
12. "The Best Song We Ever Wrote"
13. Mama, Get a Mammogram
14. She Made My Heart Walk the Plank
15. Mama's on Meth
It's a bunch of songs about drinking, parties, killing baby pandas, and how cancer sucks ass. You get the idea. For more info, see
their Myspace
.
The openers at the CD release show will be
Pistolero
and Bases Loaded, the latter being Atlanta's very own all-bass
Rollie Fingers
tribute band. You've been warned.