Rolling Stone hearts Cap
Well, this is a nice surprise.

Rolling Stone, however relevant it is these days, released an article today titled "Top 10: The Best in TV, the Web, Books and Beyond." Number 1 on that list? Ed Brubaker's Captain America!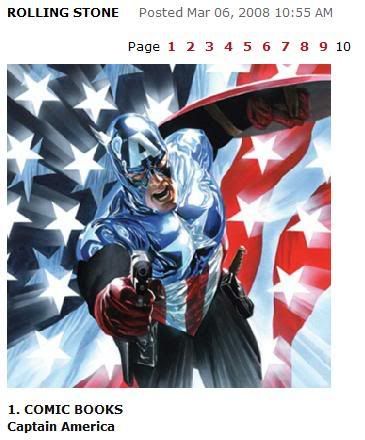 I won't go on about this book since I praise it so often, but here's a snippet from the article:
Ed Brubaker, the former indie-comics writer who's been working on Captain America since 2004, sees his riveting version of the comic as an "espionage thriller." "It's not meant to be totally reflective of the American psyche," he says. "But at the same time, I'm
part
of the American psyche, so maybe there is something of that seeping out there."
I've said it before and I'll say it again -- best monthly book on the stands.
Get caught up with the
Captain America by Ed Brubaker Omnibus Vol. 1
(issues #1-25, 65th anniversary special and
Winter Soldier: Winter Kills
one-shot),
Death of Captain America Vol. 1
(Issues #25-30), and
Death of Captain America Vol. 2
(issues #31-36, due May 21).