Marvel Team-Up: Spider-Man and Stephen Colbert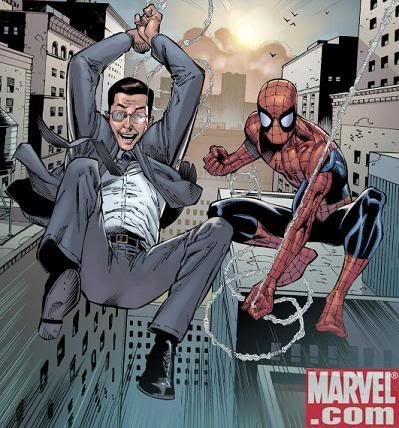 From

Amazing Spider-Man

#573
I don't have any evidence to back this up, but I'm pretty sure this comic was made just for me. Well, and
Matt Picasso
and
The Falconer
.
When
Amazing Spider-Man

#573
hits store shelves on October 15, it will feature an 8-page story with Spidey web-slinging with
Stephen Colbert
. My hunch is that Colbert will show up in the role of presidential candidate -- he remains in the race for the White House in the Marvel Universe despite
an early exit
from the real thing. Either way, it looks like he borrows a set of Peter's web-shooters.
For those keeping score, Colbert campaign paraphernalia has been showing up in Marvel books for months. The sightings are dutifully documented
on the Indecision 2008 blog
.
Hat tip to
Newsarama
.
Update: More on the team-up
at Newsarama
from writer Mark Waid.