Hand.Craft.It Festival this Saturday in Madison, Georgia
A word from C&T buddy Ryan from Homestar Runner regarding the Hand.Craft.It Festival this weekend in lovely Madison, Georgia: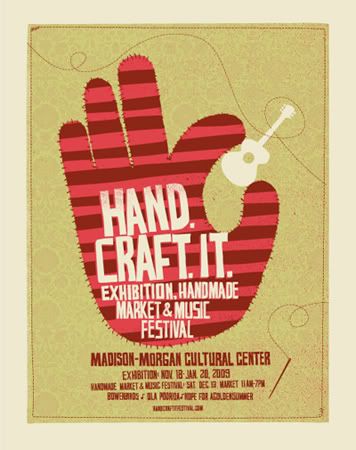 There is a great winter event happening Saturday, December 13 called Hand.Craft.It: an artist exhibition, handmade market & music festival. The one-day event celebrates all things 'DIY' and features live bands, a contemporary indie-craft exhibition, and a handmade artist market at the Madison-Morgan Cultural Center.
National indie-folk acts the
Bowerbirds
and
Ola Podrida
will be playing their first Georgia shows and Athens' own
Hope for Agoldensummer
will be opening this special event. The music festival takes place in the Cultural Center's beautiful historic theatre built in 1895. The theatre features its original wooden ceiling, stage, and seats as well as an amazing chandelier and offers great acoustics for this intimate concert. REM's award winning video for "Losing My Religion" and Of Montreal's video for "Heimdalsgate Like A Promethean Curse" were filmed on the same stage the bands will be playing. The schedule:
Bowerbirds - 7:30 PM
Ola Podrida - 5:00 PM
Hope for Agoldensummer - 3:00 PM
Bowerbirds - In Our Talons
Ola Podrida - Instead
[courtesy
SXSW
]
Hope for Agoldensummer - Malt Liquor
The music festival tickets are $10 and available through the Cultural Center box office at 706.342.4743 and
online
. The concert is general admission and open to all ages with the opening bands starting at 3:00 PM and Bowerbirds playing at 7:30 PM.
There will also be over 60 vendors selling their handmade goods in the artist market, so this is a wonderful opportunity for you to 'buy handmade' and find some incredible holiday gifts this year. The handmade market is FREE and open to the public.
Hand.Craft.It is an excellent opportunity for people of all ages to check out some fantastic live bands and feel good about buying handmade items from local artists!!!! Don't miss out!
For more INFO & directions visit:
www.handcraftitfestival.com
Hand.Craft.It Festival
Madison-Morgan Cultural Center
434 South Main Street
Madison, GA 30650
706.342.4743
877.233.0598