How I learned to stop worrying and love the Bird
As I briefly noted yesterday, I flew home from Chicago Monday afternoon and within a couple hours was in the car headed for Nashville. The purpose of that trip was to see Andrew Bird at Mercy Lounge. It was a show I'd been looking forward to for a while, so I wasn't about to give it up despite my busy travel schedule. I went up there with Tessa (from Drive a Faster Car) and The Falconer (from Do the Thrashers Have Large Talons?). Good company to be sure.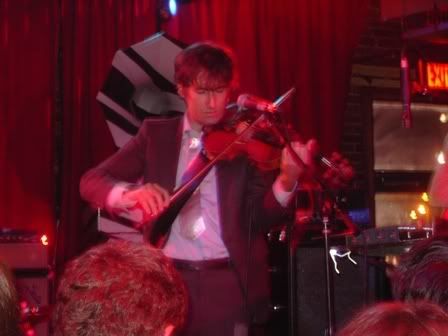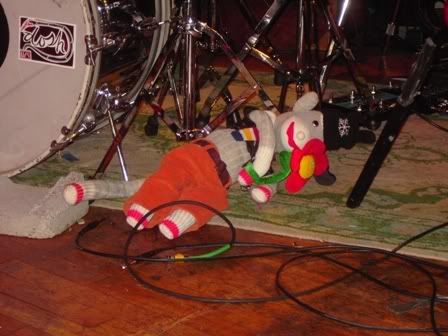 My take is rather close to that shared
by Tessa
. It was my third time seeing Andrew Bird, and each performance has proven to be charming, dynamic, and entertaining.
Mercy Lounge
was a nice setting for Bird's music, with its rustic wooden interior and clubhouse feel. He plowed through most of the material from
Armchair Apocrypha
and a selection of older tracks (including a spirited "Skin Is, My" that rocked the joint after an aborted first attempt had the players on stage giggling).
Bird and his band are a joy to watch, and their frontman commands the room whether playing his trademark violin, whistling, or strumming his newly prominent guitar. They've also added some props to the live show since I last saw them, including a spinning dual-sided gramophone (pictured above) and some badass sock monkeys. My only disappointment was the absence of both "Dark Matter" and "A Nervous Tic Motion of the Head to the Left" from the setlist, but I suppose that leaves me wanting more. Andrew Bird
remains on tour
.
I did tape, so audio will be forthcoming when I can find the time to deal with it. It's the stretch run of the semester now, so time for that may be hard to come by. There was also a video crew in the house doing something for Nashville's local documentary channel (or something), so hopefully that will emerge as well. I also finally met Janet from
Out the Other
last night, which was a pleasure. I'm sure she'll write a much better review than my own in the near future.
Andrew Bird - Heretics
Andrew Bird - A Nervous Tic Motion of the Head to the Left
Culture Bully
has audio and video of Andrew Bird's April 10 appearance on David Letterman's show.
UPDATE: Nashville Cream has published
a nice review of the Andrew Bird show
.