The Postmarks and The Preakness contest and preview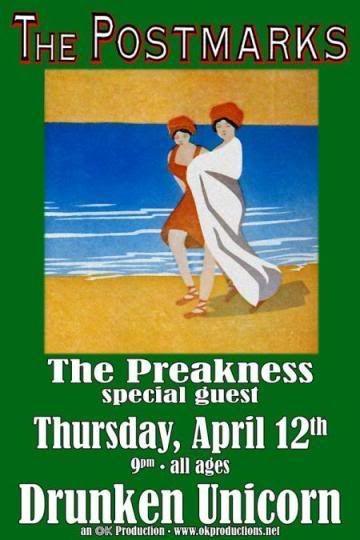 Thanks to the kind people at
World's Fair
, I have a couple of items available to C&T readers:
1 pair of tickets to the April 12
Postmarks
/
Preakness
show at
Drunken Unicorn
(ATL)
1 copy of The Postmarks' limited edition remix EP
For those who are unfamiliar, The Postmarks are a rising chamber pop trio from Miami, Florida. Fronted by the charming vocals of Tim Yehezkely (
Miss
Tim Yehezkely, mind you), they make lush and lovely pop music. They've been getting a good deal of positive buzz online and in print, and they will be touring in support of their debut LP
on Unfiltered Records
. The Preakness are, of course,
one of C&T's favorite pop acts
out of Atlanta and have recently released a 7" on
Eskimo Kiss Records
.
If you'd like either the tix or the remix EP, please drop me an e-mail with "Postmarks tix" or "Postmarks EP" in the subject line. Feel free to enter both, but do send separate entries. Winners will be selected from a (
Cubs
) hat on Weds., 4/11, at 10AM.
The Postmarks - Goodbye
The Preakness - What They're Saying
From The Postmarks remix EP:
The Postmarks - Goodbye (Tahiti 80 Remix)
The Postmarks - Goodbye (James Iha Remix)
The Postmarks - Goodbye (Spooky Ruben Remix)
Hope to see some locals at the Variety Playhouse for
Sebadoh
tonight...