Black Lips, Selmanaires, Coathangers at The Fabulous 40 Watt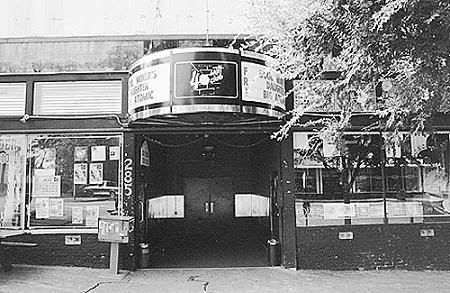 Wednesday night (Sept. 12) here in Athens, the
Black Lips
and
Selmanaires
kicked off their tour at The Fabulous 40 Watt. As an added bonus, they brought a little girl power with them in the form of Atlanta buzz machine
The Coathangers
. It was a night for rock, sweat, and beer-fueled butt-shaking the likes of which I haven't enjoyed since leaving
the Durty Durty
.
I missed the beginning of The Coathangers while sipping a
Terrapin Rye
(mmm....) at
Clocked
, but showed up soon enough to see most of their set. The gals have amped up their stage show, seeming confident and almost professional -- something that I
don't
intend to be a slight. It's apparent that 8-10 months of playing out regularly has done them good, and it was certainly a step up since I last saw them in May (despite the lack of sugar cookies). I was surprised to hear tunes I didn't know, but was delighted to catch songs like "Parking Lot," "Nestle in My Boobies," and "Don't Touch My Shit" that have held up well. The set certainly motivated me to give their new record a fresh spin.
The Coathangers - Nestle in My Boobies
[live 9-12-2007]
The Coathangers - Parking Lot
[live 9-12-2007]
The Coathangers - Don't Touch My Shit
[live 9-12-2007]
The night's middle set was actually that which I was most anticipating. The Selmanaires have become my Atlanta band of choice over the past couple years; their garage-tinged post-punk just kicks me in the pants every time I see them live. At the 40 Watt they showed off the current state of their evolution. Newest addition Mathis Hunter has been solidly incorporated into their older material, and provides second guitar and percussion on both those well-seasoned tracks and the newest additions to their catalog.
Even having seen the band umpteen times, the set seemed unique. Unfamiliar material, presumably from their forthcoming album, surely contributed to that. New disco-laced song "Night Beat"segued seamlessly into anthem "Selmanaire Rock" midway through the set, with older crowd favorites "In the Direction of Yes" and "GMAFB" also providing highlights. I sincerely hope that this tour with Black Lips introduces The Selmanaires to new and receptive ears, because they sure deserve it.
The Selmanaires - GMAFB
[live 9-12-2007]
The Selmanaires - Night Beat -> Selmanaire Rock
[live 9-12-2007]
Speaking of Black Lips, they closed the night with a typical set from the band -- loud, unpolished, and lots of fun. The boozy crowd enthusiastically sang along, pumped their fists, and danced. Luckily, the band didn't repeat its refusal to encore that irked some attendees of their last Athens performance. The highlights for me were probably the aforementioned "O Katrina!" (loe that bass line), "Dirty Hands," "Stranger," and "Buried Alive." The latter in particular had the roomful of kids howling.
Black Lips - O Katrina!
[live 9-12-2007]
Black Lips - Dirty Hands
[live 9-12-2007]
Black Lips - Fairy Stories
[live 9-12-2007]
Quite the night out to be sure. Can't wait to see 'em all again.
The folks from
Zig Zag Live
were also in attendance (hi Taylor!), and will be blogging the tour's dates in Athens, Raleigh/Carrboro, Boston, and Brooklyn. The tour's remaining dates can be found
on Myspace
.