Mark Olson vs. Kanye West: Rumble in the Land of the Midnight Sun
We've all heard about the
stupid rivalry
between 50 Cent and Kanye West, right? Well, the sales figures came in on that one long ago. Kanye, however, does not remain without challengers. The latest contender is
Mark Olson
of Jayhawks fame, who pledged to retire if his
The Salvation Blues
didn't outsell Kanye's
Graduation
in Norway
. Ah, and victory indeed smiled upon good Mr. Olson.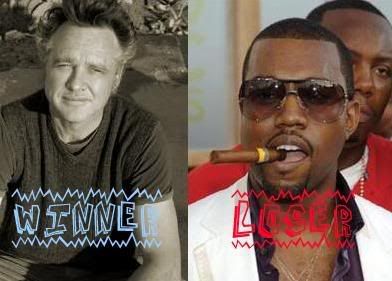 An excerpt from tonight's release by his label, Hacktone Records:
The rock-solid numbers just don't lie: alt-country troubadour and founding member of The Jayhawks Mark Olson has outsold hip-hop popster Kanye West in Norway's hottest music feud.

Explains a relieved Olson, "I said I would retire - just plain stop making records - if I didn't outsell him in Norway. Luckily, my fans still believe in the power of romantic folk rock."

After a tense few weeks spent combing the blogosphere and eyeballing the charts, Olson heaved a sigh of relief, learning that his solo opus The Salvation Blues has clearly trumped West's Graduation, selling hundreds and hundreds and hundreds...and hundreds more copies to Norway's esteemed audiophiles. The beef is over and Norwegian music fans have declared Olson the undisputed winner.

As of press time, the defeated West has yet to comment. Critics are abuzz with speculation that Olson's Norwegian triumph in the sales wars may even push the embattled 50 Cent further towards retirement in the wake of West's Scandinavian flatline. The message is clear - Olson's got game and the hits will keep on comin'.
A fine showing for Norway's American roots folk sweetheart.
Mark Olson - Salvation Blues
Mark Olson's full length album
The Salvation Blues
is available
from Amazon
or other retailers.