Rob Sheffield 'Love is a Mix Tape' reading 1/23 at Wordsmiths Books, Decatur
Tim from Baby Got Books brings you a message about a special event...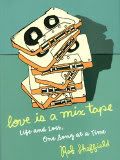 Many thanks to Rich for inviting me over to file a guest post. I'm the editor of an Atlanta-based group book blog called
Baby Got Books
. We're excited to be kicking off what we hope will become THE reading series where all the cool kids will meet. These will not be your Aunt Sally's book readings. Oh, no. Our very first reading is next week, Weds., January 23, and will feature
Rolling Stone
editor and writer Rob Sheffield reading from his non-fiction book,
Love is a Mix Tape
.
If you haven't read the book, it tells the story of Sheffield's relationship with a fellow college DJ and music writer, Renee, who would later become his wife. Each chapter begins with a picture of the cassette insert of a different mix tape that the couple made for each other or together. When Renee dies suddenly of a brain aneurysm, the box of tapes provides access to their past and proof that for a time, they were happy. It's powerful, surprisingly witty, brutally raw in places, and beautifully written. If you've ever stayed up way too late with a cassette deck and a stack of vinyl crafting a masterpiece mix tape, you'll instantly relate with Sheffield's story.
After the reading, local band
The Swear
will take the bookstore stage and play a set. The Swear are "led by the literate swagger" of Elizabeth Elkins -- perfect for a bookish night on the town. This will not be an unplugged acoustic set. The Swear will be bringing the rock. The Swear's debut full length will be released later in 2008.
The Swear - The Sleep Inside
The reading will be held at
Wordsmiths Books
in Decatur, GA (
Google Maps
). Wordsmiths is located just off Decatur Square and is one block from the Decatur MARTA station. If you don't have the book yet, be sure to support our favorite indie book store by picking up a copy there. The evening is FREE and FREE drinks will be provided.
If you make it to the reading, be sure to say find me and say hi.
Thanks for having me over, Rich.
Tim
Baby Got Books