The Buddy System at 40 Watt and DVD giveaway!
As mentioned recently in this space, rising Athens ani-popsters
The Buddy System
celebrated the release of their new DVD tonight at the Fabulous 40 Watt. They played as part of the Twilight Delirium festivities headed by
Je Suis France
, and brought along their signature video toys. And it was good.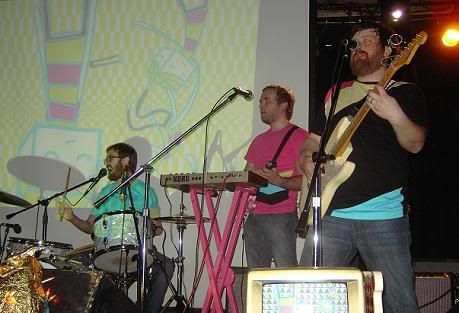 The Buddy System boys (Matt Lewis, Craig Sheldon, Ryan Lewis)
I didn't time the band's relatively brief set, but each of their seven songs was accompanied by its own impressive animated video. Although I'd seen some of them online, this was my first time seeing the band provide the soundtrack in a live setting. It's a really cool experience. They back the animation without missing a beat, and it's always fun to see a theremin and toy instruments in the mix. The crowd was receptive, vocal, and in many cases quite familiar with the material. One audience member even showed off a new (permanent?) tattoo of the beast from
the "Clap Paws" video
(nice to meet you,
Pierre
!). Yowza!
The Buddy System setlist from 40 Watt, April 26:
Rap Music, Clap Paws, Bring in the Day, Nature's Tiny Realm, Little Kitty, Horse Mountain
"Little Kitty" was a cover [audience-shot video
on YouTube
], but I didn't catch the original artist. Its video featured hypnotic kitty butts, and the song included "meows" played on a Guitar Hero guitar. I fear I'll have interesting dreams tonight.
Lauren Gregg and... the cutest bass ever?
Ryan Lewis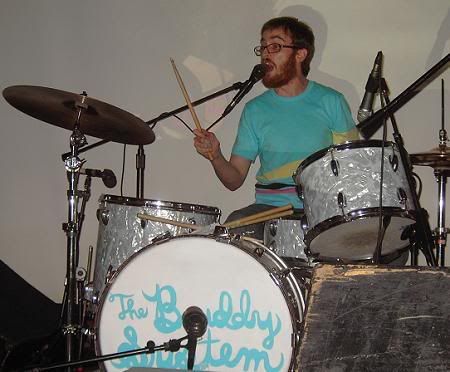 Matt Lewis
As noted, The Buddy System released their new DVD tonight featuring videos for "Clap Paws," "Tesla Sez," "Return to Horse Mountain," and "Nature's Tiny Realm." They're limited to 100 copies, and I have #22 to give away (I'm keeping #23 for myself -- that's
Ryne Sandberg
's number!).
If you'd like to get your hands on the DVD, e-mail me with "Buddy System DVD" in the subject line. I'll contact a winner on the afternoon of Friday, May 2.
They should also be available soon
from Kindercore
.
The Buddy System - Clap Paws
The Buddy System - Tesla Sez
I left early in the Je Suis France set, but I also picked up their limited edition
Death Wish
EP (66 copies). Haven't listened yet, but if it includes some gems I'll try to share.