My Friday at HeroesCon
I trekked up to Charlotte for HeroesCon on Friday, and it made for a long but fun day. I picked up a lot of books, got many signed, and got to chat with a lot of folks I only knew through their work or online interaction. Nice to meet Hillary from Shazhmmm as well. In fact, there was a pretty strong Atlanta/Athens contingent in the building.

The blotter:

The belle of the HeroesCon ball was Darwyn Cooke, who had a long line from opening until closing. I got through it in about 10 minutes. Huzzah to Darwyn for remaining chipper through the whole episode.

As noted in my previous post, Captain America, Daredevil, Criminal, Immortal Iron Fist, and Uncanny X-Men writer Ed Brubaker was unable to attend HeroesCon. Brubaker was, however, nice enough to send a stack of signed Criminal issues to Matt Fraction. He has them at his booth for the taking. If you're at the con, keep that in mind on Saturday.

I teased a prominent DC employee about rumors regarding change at the top there, and was assured Dan DiDio "isn't going anywhere" and rumors to the contrary are "bullshit."

Newsarama's rep was quick to request feedback on the site redesign, and noted that they're working on some of the site's flaws and hope the readership learns to navigate the revamped site effectively.

Stuart Immonen indicated that the ball is in Warren Ellis's court with regard to future issues of NEXTWAVE. He also shared that he enjoys when characters from the series show up elsewhere, as has happened a bit lately. Now, free The Captain!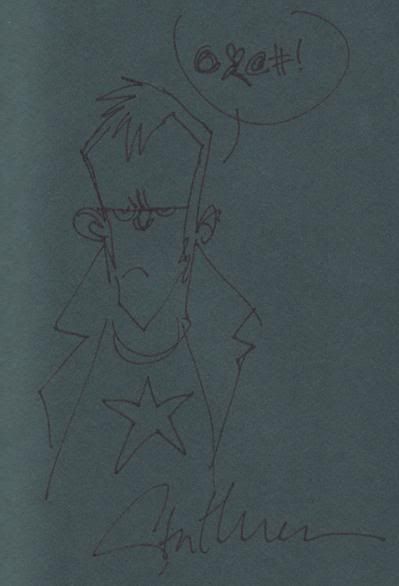 Sketch of The Captain by Stuart Immonen
Also, one should never watch online videos recommended by the duo of Matt Fraction and Rick Remender. They are, however, well-suited to co-author
Punisher War Journal
.
The books:
Paolo Rivera
had the art from the forthcoming
Mythos: Captain America
on display, and it's
gorgeous
. The book follows Cap through his origin, World War II, his time with The Avengers, and later life. Readers should note the care Rivera takes with regard to Cap's evolving uniform and shield. I can't wait to get my hands on it next month.
Tony Harris
brought along the forthcoming first volume of the
Ex Machina Deluxe Edition
, and it's a pretty book. It's due July 15. Harris also confirmed that the six
Starman
hardcovers being released will include everything related to the title including all mini-series and one-shots. Nifty.
Chris Schweizer
brought an advance copy of his
Crogan's Vengeance
on Oni Press, and it looks great. He let me know that the hardcover is available
for pre-order
now at only $10!
I finally got my hands on Laura Park's mini-comic "Do Not Disturb My Waking Dream," and it's even better than I expected. It has both fictional and autobiographical content, and it's both sweet and well-crafted.
Order that sucker
for $3. Laura was cool too, as was her partner-in-crime
Julia Wertz
.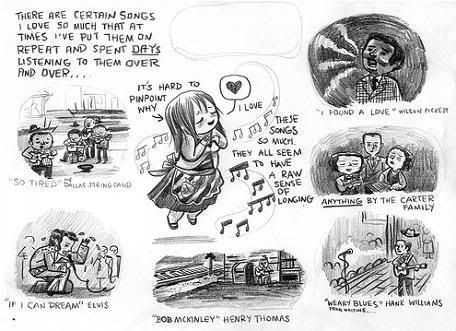 From Laura Park's "Do Not Disturb My Waking Dream"
David Malki
debuted the hardcover of his forthcoming
Wondermark: Beards of our Forefathers
at the show, and I couldn't help but pick it up. Malki repurposes wood etchings from a century ago to craft entertaining gag strips. It is also available
for pre-order
at just $10.
The awesome
Ben Towle
gave me a copy of his 2006 mini-comic "Hey, Teach!" about kids in a cartooning class that became obsessed with
MODOK
. I heart these kids.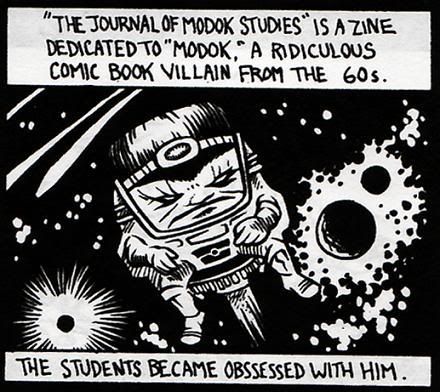 Other goodies:
Alex Robinson
and Top Shelf had the hardcover of his brand new
Too Cool To Be Forgotten
for sale, and as a bonus had candy cigarettes branded with the book's logo. They still make candy cigarettes? The book, by the way, looks great and is available
for pre-order
.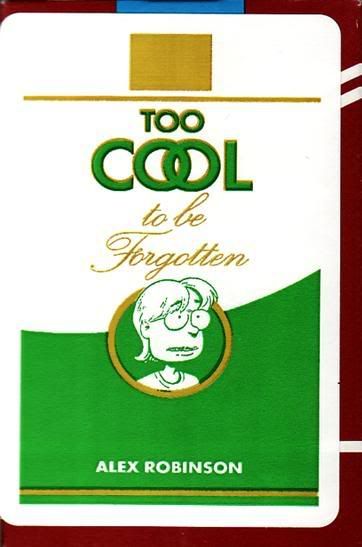 Chris Giarrusso
draws a
mean
cute Captain America:
I guarantee I'll get his
Mini-Marvels: Rock, Paper, Scissors Digest
once it is available.
I picked up some more books and got to meet a lot of talented creators, so my day at the show was a success. HeroesCon continues through Sunday.