Checking in with Casper & the Cookies
Despite all their recent activity, it's been a while since C&T checked in with Athens popsters Casper & the Cookies. Thankfully, their Jim Hicks has been kind enough to send along an update.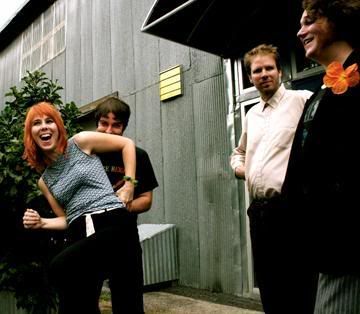 Photo by Courtnie Wolfgang
Casper and crew have been busy recording their next record with an assist from Elephant 6 staple Bill Doss (Olivia Tremor Control, Sunshine Fix, Apples in Stereo), who has been assisting in the production. Recording has made their tour schedule rather sparse for now, but they will be among the powerhouse acts (along with Thee American Revolution, Andy from Denver, Circulatory System, Elf Power, The Music Tapes, and more) to take the stage on Saturday, August 16, at Athens Popfest. Holy crap is that gonna be good.
Casper & the Cookies - Sid from Central Park
Jim tells me that the band has also been releasing a video diary of their trip to Japan in February (titled "Watashi-Wa Vegetarian")
via YouTube
. Check
their channel
for all the shenanigans. They've posted four so far, with more to come.
While I'm at it, don't forget that Casper Fandango himself blogs at
Noises for the Leg
. Pop galore! I'll pass along updates on that new album when I get them. Can't wait for Popfest...