This, that, and Thor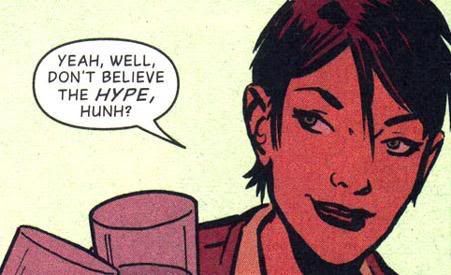 From

Catwoman

#24 by Ed Brubaker and Guy Davis
I'll try to get back to real music coverage shortly, but I've been busy lately. A few notes:
Music:
The Young Sinclairs
and
Sound Houses
were great at Caledonia Lounge last week, and I've had the current album from North Carolina roots artist
Cary Fridley
playing constantly. I imagine she'll be the next artist I feature when I can write for fun again.
Film:
Wanted
= overrated. Sorry, Mark Millar. Bring on Hellboy and The Dark Knight.
Comics: Matt Fraction owned last week with three great books (
Immortal Iron Fist
#16,
Young Avengers
#6,
Thor: Reign of Blood
). The Star Wars-themed mini-comic
Harvest Is When I Need You the Most
is also a winner even at $7. Tomorrow's highlight for me is probably
Jonah Hex
#33 with the terrific
Darwyn Cooke
on art. Can't wait to get my hands on it.
For now, I'll sign off with a video discovered via the comments on
Chris's Invincible Super-Blog
. Presenting "Thor: God of Metal":
\m/