Fat Planet reunion at Athens Popfest, August 15
One of the more unique events of this year's Athens Popfest has been the reunion of former Ruston, Louisiana, high school band Fat Planet. Why the special occasion? It's not every teen band whose members go on to establish Elephant 6.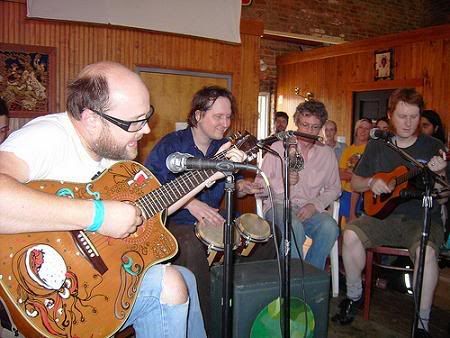 Robert Schneider, Will Cullen Hart, Pete Ehrchick, Bill Doss
Fat Planet members
Robert Schneider
(Apples in Stereo, Marbles, Ulysses, Thee American Revolution) and
Bill Doss
(Olivia Tremor Control, Sunshine Fix, Apples in Stereo) hit the stage at Little Kings accompanied by
Will Cullen Hart
(Olivia Tremor Control, Circulatory System), Peter Ehrchick (Pipes You See Pipes You Don't, Olivia Tremor Control) and Charlie Johnston (63 Crayons, Circulatory System). The first Fat Planet show in two decades was attended by many of the band's friends and families, and had the unpolished feel of a house show. Doss, Hart, and Schneider shared acoustic guitars and worked their way through both a couple Fat Planet tunes and some of their own material.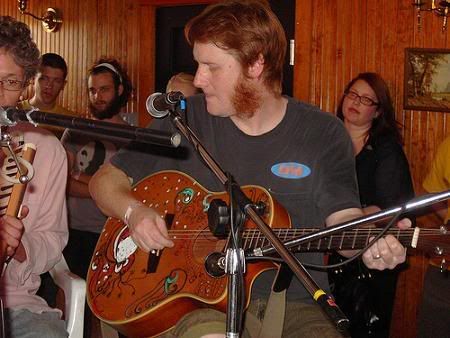 Bill Doss
Each performer handled vocals on songs he wrote, and the set included Schneider's "Rainbow," Hart's "Monsters," and a couple of Doss songs that escape me. One of the Fat Planet songs that the gents performed was "Warm Milk and Chocolate," a song that Schneider wrote at 16. It's a fun pop song that Schneider introduced with a story about how his little brother destroyed the original tape years before and Hart later spliced it back together.
Robert Schneider's "Warm Milk and Chocolate" story
Fat Planet - "Warm Milk and Chocolate"
The set was pretty sloppy in places, but still a special thing to see. C&T buddy Lance taped the full show, so hopefully audio will be available in the near future.