Captain America and MODOK by Drew Weing, Eleanor Davis, Michele Chidester, and Joey Weiser
I follow many of my favorite comics creators' blogs via RSS feeds, and was amused this week to see an entry by Joey Weiser (The Ride Home
, Tales of Unusual Circumstance
) about Free Comic Book Day last Saturday. Joey was at Bizarro Wuxtry in Athens along with wife Michele Chidester and fellow comics power couple Eleanor Davis (Stinky
) and Drew Weing, and noted that "[n]one of us really draw superheroes much, but we had a great time taking a crack at folks like Captain America, MODOK, and Arnim Zola. He went on to say that "Michele did a freakin' great painting of Wolverine too" and "... Maybe some scans will surface, and I'll let you know."

Conveniently, several of the sketches mentioned above were done for me or my buddy Robert, so I can share them here. Up first are my Captain America and MODOK sketches, to be followed by Robert's Wolverine, Arnim Zola, and others. Take a look: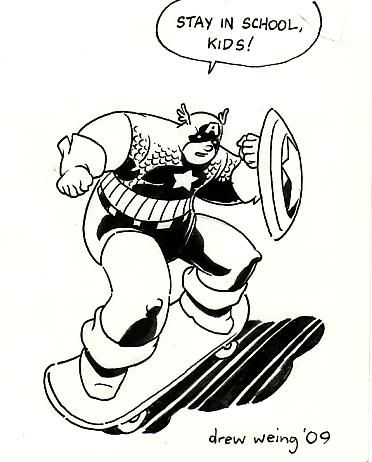 Captain America by Drew Weing (pen and ink)
MODOK by Eleanor Davis (pen and ink)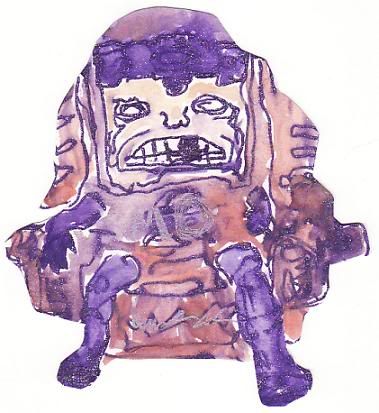 MODOK by Michele Chidester (watercolors)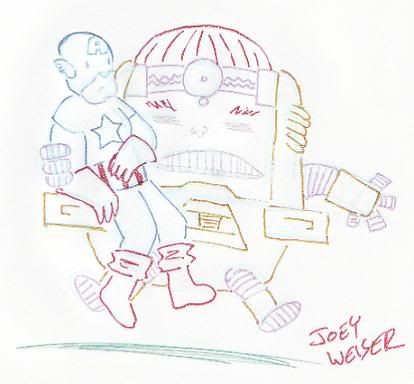 Captain America and MODOK by Joey Weiser (colored pens)
Thanks to Joey, Michele, Drew, and Eleanor!