Free Comic Book Day is Saturday; events at Bizarro Wuxtry in Athens, Criminal Records in Atlanta, Dr. No's in Marietta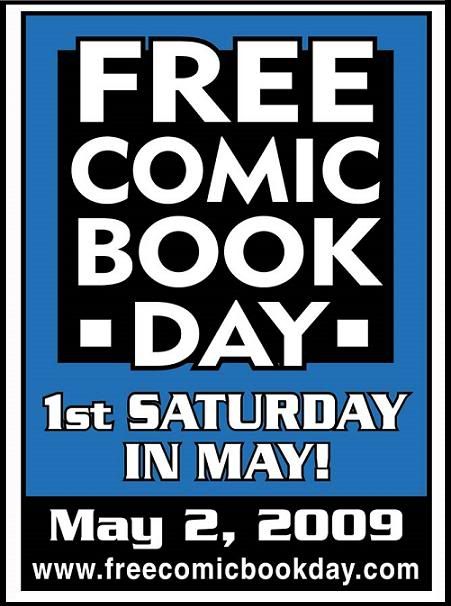 Word in from C&T's friends at
Bizarro Wuxtry
(Athens) and
Criminal Records
(Atlanta) that they're having guests in for Saturday's big
Free Comic Book Day
. Stop in either store for free comics released for the day, many of which preview upcoming events in the year to come.
From Bizarro Wuxtry:
BIZARRO WUXTRY

LAST MINUTE

SURPRISE

FREE COMIC BOOK DAY 2009! Come Help Us Celebrate

FREE COMIC BOOK DAY

upstairs at Bizarro Wuxtry, 225 College Avenue, in the heart of downtown Athens, GA.

This year, in addition to a wide selection of free comic books,

Bizarro Wuxtry

is proud to host local comic bookers Michele Chidester, Eleanor Davis, Drew Weing & Joey Weiser, who will be doing free sketches and signing their work throughout the day.They're really friendly, creative people and I'm thrilled that they agreed to do this at the very last minute.


We'd love to see lots of people, old customers and new friends, come up and walk away with several, new, fun things to read, for free! If you have never been to your local comic shop located on top of a record store before or just haven't been lately, come visit this Saturday, May 2.
From Criminal Records (yanked from
here
):
All of you, please read to the end this week, though it is a long one. Trust me.

First off, Free Comic Book Day is tomorrow! And, as a reminder, here is our schedule of events:

1 pm Nathan Edmondson - Writer for the upcoming comic Olympus will be discussing mythology in comic books.

2 pm Jason Flowers - Featured artist in Arcana's Velvet Rope and artist of the upcoming comic Ripped will be speaking about his first experience getting published and about his upcoming comic.

2:30 pm Angela Pratt - Will be talking about and signing people up for a new comic creator's network, the Atlanta Cartoonists Group.

3 pm Nathan Edmondson - Writer of the upcoming comic Olympus will be discussing how to get into comics.
6 pm Sass Parilla the Singing Gorilla - Do you really need a description? I think the name says it all. A singing gorilla, what more do you need? Yes, he has his own comic.

Also, Jennie Law will be passing out flyers for, answering questions about, and signing people up for the Criminal Comics Club.

Also, on May 20th, Nathan Edmondson will return to sign and discuss the first issue of his comic, Olympus, from 4-7pm. He is also having a release party that Friday, the 23rd, at 6:30pm at Avalon Comics in Macon, GA, (3317 Northside Dr., Macon, GA 31210 (478) 254-2749), where he lives. So, he is coming all this way just to invite you. Yes, you. He wants you there. He really does. He misses you. He left you a ton of messages, but maybe your roommate accidentally erased them all. Why don't you return his calls? The two of you never go out anymore and you seem so distant. What does he have to do to win your love?

For comics club this month, we are reading one of my favorite authors, Gail Simone. We will be meeting Monday, May 25th, at 7:30 at Thinking Man Tavern to discuss Welcome to Tranquility Vol 1. If you haven't read this book, you really need to. It's original, funny, creative, and downright entertaining. If you miss the more fun comics of yore, this book does a great job of bringing those feelings back while balancing them with the modern comics aesthetic. Wow. I sounded smart for second. Weird.

Lastly, and here is the really important part, next Friday is my last day at Criminal. I got a new job that I can't pass up. Everyone at Criminal has been really good to me, and I am going to miss this place. Most of all, I am going to miss all of you. No. Really. I really am. So, just so I don't go away too broken hearted, here is my personal e-mail address. Please do keep in touch.
It looks like I'll be hitting up
Dr. No's
in Marietta for my Free Comic Book Day festivities. They'll have
Mark Bagley
(Ultimate Spider-Man, Trinity, etc.) and
Brian Reed
(Ms. Marvel, various Marvel titles) in the house, which is a pretty big deal. Go out Saturday and get some free books!