The Police 6-15-1986 @ Giants Stadium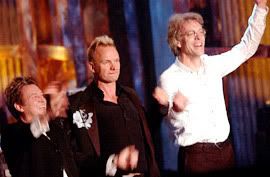 Unless you've been stranded on a desert island for the past month, you've probably heard that N.W.A.'s least favorite band is back together. The appearance by The Police at Sunday's Grammy Awards has been hyped beyond belief, and it's likely that Monday afternoon they'll announce an upcoming tour. I'll note that they played a pretty solid version of "Roxanne" on the broadcast.

Interestingly enough, this isn't the first reunion for Gordon, Andy, and Stewart. They got together back in June '86 for Amnesty International's Conspiracy of Hope Tour after a couple years off (during which they did issue a singles collection), and reunited for a private appearance at Sting's wedding in 1992. More recently they played a short set at their 2003 Rock and Roll Hall of Fame induction. Since I'm anticipating Monday's announcement (along with everyone else, it seems) here's a recording of one of those 1986 "reunion" sets. This also happened to be the last public show until the Rock Hall of Fame set 17 years later. Enjoy!

The Police
October 15, 1986
Giants Stadium
East Rutherford, New Jersey

01. Message In A Bottle
02. King Of Pain
03. Driven To Tears
04. Every Breath You Take
05. Roxanne
06. Invisible Sun

For those of you who can check this out at the time (I won't be able to), The Police have set up a website to listen in on the press conference and some rehearsal recordings. I believe the press conference is at 2pm EST Monday (2/12) and they're promising an mp3 of some sort to download by 7:30pm. Interesting, if nothing else. If there's news, do tell!