C&T New Coke Mix: A Tribute to Harmonious Flavor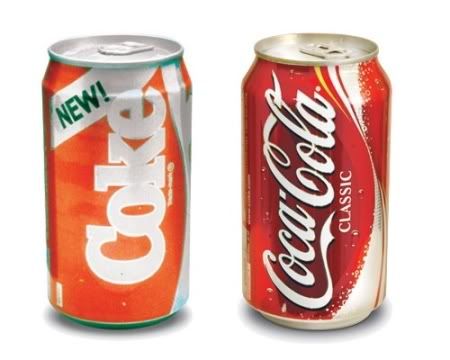 On this date in 1985, Atlanta's own Coca-Cola Company perpetrated one of the biggest corporate fark-ups of all-time. That April 23 the soda giant announced it was abandoning its beloved 99-year old Coca-Cola formula in favor of a new and "improved" version of its signature drink. Coke CEO Roberto Goizueta described the new taste
as follows
:
"[It's] smoother, uh, uh, yet, uh, rounder yet, uh, bolder ... it has a more harmonious flavor."
Dubbed
New Coke
, it generated public outcry and Coca-Cola Classic was reintroduced only 77 days after its replacement hit shelves. Not even
Max Headroom
could rescue the product.
In honor of the decade that brought us New Coke, here's a collection of artists covering songs from the 1980s (well, I cheated for Thin Lizzy... that was 1976). There's probably no relation between any of these and Coke, but whatever.
C&T New Coke Mix: A Tribute to Harmonious Flavor
01. Koala - American Music
[Violent Femmes]
02. Jon Auer - Is She Really Going Out with Him? [live; Joe Jackson]
03. Teenage Fanclub - Here Comes Your Man [Pixies]
04. Princeton - Girls Just Want to Have Fun [demo; Cyndi Lauper]
05. Ben Folds and Rufus Wainwright - Careless Whisper [live; Wham!]
06. Death Cab for Cutie - Lovesong [The Cure]
07. Spacehog - Senses Working Overtime [XTC]
08. The Boy Least Likely To - Faith [George Michael]
09. Belle and Sebastian - The Boys are Back in Town [live; Thin Lizzy]
10. The Folk Yous - Heat of the Moment
[demo; Asia]
11. Cars Can Be Blue - Teenage Mutant Ninja Turtles (theme)
You can download the entire mix
from Sendspace
[50mb].
If you just can't get enough,
visit CokeJingles.com
for the likes of Marvin Gaye, Ray Charles & Aretha Franklin, The Troggs, Neil Diamond, Roy Orbison, The Supremes, Nancy Sinatra, Tom Jones, Golden Earring, and others singing about Coke. You'll laugh, you'll cry, you'll hurl.