Arcade Fire 5-1-2007 @ Atlanta Civic Center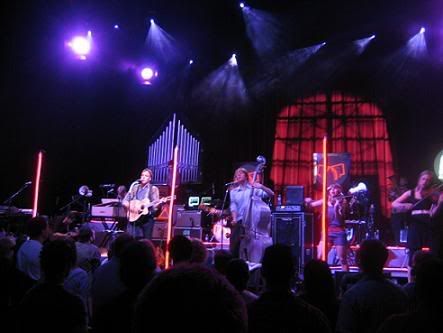 Let me begin by saying I've never really been on the Arcade Fire bandwagon -- I think they're a talented act worth paying attention to, but I've never really understood the level of hype surrounding them. I'd been told for quite a while that I'd change my mind once I saw them live, but I passed up a couple opportunities to do so before attending Tuesday night's show at the Atlanta Civic Center. In the end, I'll say that I wasn't swayed one way or the other but I can see why others might be nutso for the band.
I was told that some 4,000 tickets were sold for the show, and the Civic Center reminded me somewhat of a massive high school auditorium. The National opened the night, playing an enjoyable if somewhat slow-paced set during which I thought the sound could have been better. Unfortunately, the house was only about half-occupied while they were on stage and I heard more than one person in my vicinity utter some variation of "Who the hell are these guys/The National?" during the set. Sigh.
As for the Arcade Fire set, my general take is that it was quite enjoyable but didn't really put to rest my pre-show puzzlement. Others I spoke to labeled it "amazing" and/or the best show they'd ever seen, however, so perhaps I'm the exception. They played versions of songs from
Funeral
and
Neon Bible
that were faithful to their recorded output, and judging from the audience participation I'm guessing that was generally applauded.
Personally, I was particularly impressed with "My Body is a Cage," the "Neighborhood #3 (Power Out)" > "Rebellion (Lies)" combo, and first encore "Intervention." They're certainly an intense and energetic act, and I enjoyed watching the players interact and seeing members bounce from one instrument to another during the set. The band also won Brownie points from the crowd by inviting everyone to surge toward the front after "Neigborhood #1 (Tunnels)." Their percussionist also scaled a sort of retaining wall in the audience during one of the songs, but I've forgotten when. Any help?
As noted below, I did tape the show. You can grab
.mp3 files of the full show in a 98mb .zip file
(via Sendspace, and a
backup link
in case that one dies) or sample a few tracks below.
Lossless (.flac) files are available via The Trader's Den
. The relevant info:
The Arcade Fire
May 1, 2007
Atlanta Civic Center
Atlanta, GA
Taped: SP CMC-4's > batt box > Nomad Jukebox 3
Location: Left side, rear of orchestra section
Conversion: JB3 > Gateway MT6451 > Cool Edit Pro 2 > CD Wave > .mp3
01. religious lady rant > Black Mirror
02. banter
03. No Cars Go
04. Neighborhood #2 (Laika)
05. Haiti
06. banter
07. Black Wave/Bad Vibrations
08. My Body is a Cage
09. banter
10. Windowsill
11. banter
12. The Well & The Lighthouse
13. Ocean of Noise
14. Neigborhood #1 (Tunnels)
15. applause/banter
16. Neighborhood #3 (Power Out)
>
17. Rebellion (Lies)
18. applause/banter
19. Keep the Car Running
20. applause/banter
- encore -
21. Intervention
22. applause
- encore 2 -
23. Wake Up
Radio Cure
has a more extensive review of the show, as well as more pics and some video.