Johnny Cash - The Great Lost Performance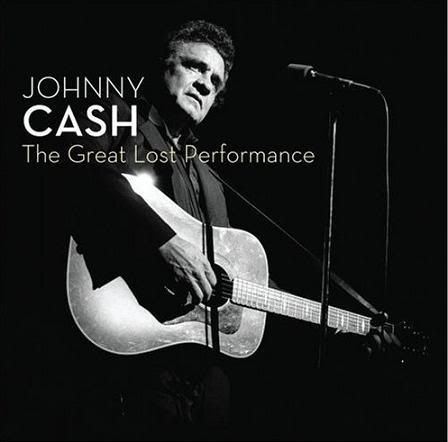 I haven't had much time lately to write about my mail, but tonight while working I managed to listen to one of my new records.
The Great Lost Performance
is a live recording that captures
Johnny Cash
shortly before the team-up with Rick Rubin that would endear him to flannel-clad kids with Doc Martens and unkempt hair. This 1990 performance from New Jersey is intimate and nostalgic, full of traditionals, gospel tunes, and gems from Cash's catalog. Even though it might not live up to the ridiculous standards promised by the album's name, it's a fine release.
Cash's signature voice booms throughout the performance, which includes anecdotes between songs that no doubt charmed and entertained the live audience. Classics like "Hey Porter" and "Tennessee Flat Top Box" are among my favorites here, along with the always great "Jackson" with June Carter Cash trading verses with her husband. Her story following that song about Johnny's recovery from a broken jaw might even be the best unexpected moment on the release. The album also boasts a pair of rare Cash gospel tracks, "A Wonderful Time Up There" and "What Is Man," to excite the completists. Classics like "Ring of Fire," "Folsom Prison Blues," and "Walk the Line" also make an appearance. Perhaps not an essential purchase, but sure to be a hit with fans of The Man in Black.
Johnny Cash - Hey Porter
Johnny Cash - Jackson
[with June Carter Cash]
For more on Johnny Cash, visit
his official site
.