Superhero karaoke
Given Meat Loaf's affiliation with the Marvel heroes, it's little wonder guys in the funnybooks have some love for classic rock. Actually, do the Village People count as classic rock? I'm pretty sure they play 'em on the same damn station, anyway.

From Fantastic Four #538...


Yikes. Although it would be amusing to see
The Thing
dressed up as
the biker
. Wouldn't "Macho Man" have been more appropriate?
From the
Deadpool GLI Summer Fun Spectacular
...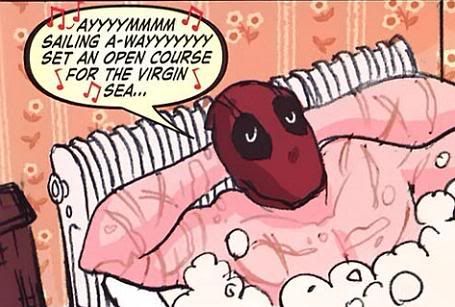 No surprise that
Deadpool
is into Styx. He's out of his mind.
In the spirit of classic rock karaoke, here are tracks from a few
musical
heroes getting in on the fun.
Of Montreal - Don't Stop Believin'
[Journey; live 4-9-2007 w/
Jason NeSmith
on vocals]
Jon Auer - Is She Really Going Out With Him?
[Joe Jackson; live 6-30-2000]
Ben Folds and Rufus Wainwright - Careless Whisper
[Wham!; live 12-1-2006]
Mountain Goats - The Boys are Back in Town
[Thin Lizzy; live 9-30-2004]
Almost makes me miss
DaveFM
. Almost.