Colin Meloy album pre-order now available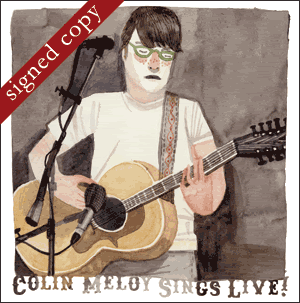 Colin Meloy's forthcoming
Colin Meloy Sings Live
is now available for pre-order from The Decemberists' shop, and there's an incentive to get in early. The first 300 CDs and 100 LPs purchased
from the band
will be signed by Colin and mailed to arrive on or before the April 8 release date. Everyone who pre-orders will also be entered to win a grand prize consisting of a sheep, ship, and skull as seen on stage with Colin during his 2006 tour as well as two tickets to a show on his spring tour. You know I ordered mine.
Colin Meloy - Clementine
[live 1-18-2006]
Get in on this quick -- there's no way they'll last long.