Love is a battlefield
West Coast Avengers #75 (October 1991) is, more or less, a pretty lousy comic book. But at least it gave a hint of what Moonlighting would have been like in the Marvel Universe. Witness villains Arkon and Thundra, nine panels into beating the snot out of each other, as they take on the roles of Bruce Willis and Cybill Shepherd respectively: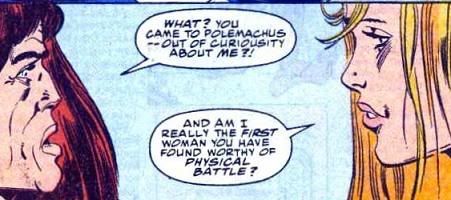 And... scene.
If they ever get tired of snogging, they can go break stuff together.
Pat Benatar - Love is a Battlefield
I'm guessing Pat Benatar never meant to be taken so literally.