Steve Gerber, 1947-2008
"Plants are like people. Writers are like plants. Therefore, and this may come as a surprise, writers are like people. Given them light, water, nourishment, a comfortable pot and an encouraging world and they'll grow." -- Howard the Duck #16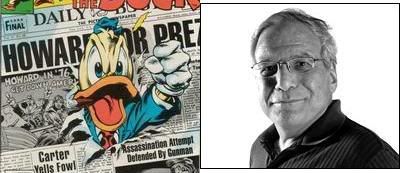 Word in tonight that beloved writer
Steve Gerber
has passed away from complications due to pulmonary fibrosis at age 60.
Gerber created Howard the Duck for Marvel Comics, and wrote such series as
The Defenders
,
Man-Thing
,
Omega the Unknown
, and
Guardians of the Galaxy
, among others. He was also wrote and edited the animated series
G.I. Joe
and
Transformers
, and created the animated
Thundarr the Barbarian
. His work brought joy to many, and he'll be missed.
See Newsarama
for more information and commentary.