Persepolis at Athens Ciné, February 15-28
I've wanted to see this for a while, so I'm pleased to see that the film adaptation of Marjane Satrapi's graphic novel Persepolis begins running at Athens Ciné tonight. It will show nightly at 4:00, 7:00, and 9:30 through February 28.

For the uninitiated, Persepolis is the story of Satrapi's childhood in the years immediately surrounding the Iranian Revolution of 1979 and the Iran-Iraq war of the 1980s. It documents her experience living in a household with a revolutionary spirit, thrilled to see the Shah displaced but later disillusioned with the Islamic regime that took its place.

It's a moving and emotional story of a nation in turmoil and its effect on one family; friends and relatives find themselves the victims of government oppression, torture, and worse. Protagonist Marji, as well as her friends and family, deal with new restrictions and watchful eyes while trying to maintain their sanity in the midst of bombings and demonstrations. Among the finest contributions to the genre, and highly recommended. It has been followed by sequels that are on my reading list, and I'm eager to consume them in the near future.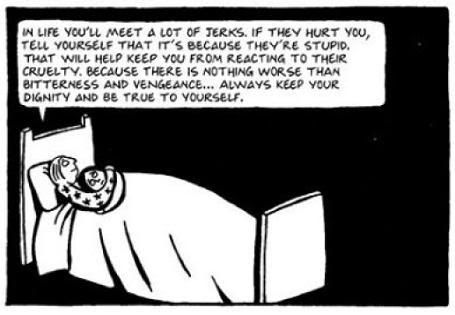 The French film based on the graphic novel has been nominated for an Academy Award and won the Jury Prize at the Cannes Film Festival, and I'm excited to see it. It appears to follow the story of the initial graphic novel fairly closely, and features the same black and white animation style as the source material. The trailer, in French with English subtitles:
Athens Ciné has organized a pair of events surrounding the film, beginning tonight. This evening's 7pm show will be accompanied by a panel of speakers from UGA's Film Studies and Women's Studies Departments and School of Public and International Affairs including three faculty members, a doctoral candidate, and an undergraduate student.
A second event follows on Sunday, February 17, when Professor Laura Mason from French History at UGA will take part in a coffee and conversation event featuring
Persepolis
. This event is also at 7pm.
For more on the film, see
its official website
.