Fishboy CD giveaway and tour dates, Athens 5/10
Exciting news in from the Fishboy camp as the Denton, Texas, indie popsters have announced a month of tour dates. Along with the cities below, they're also working on dates in Boston, Atlanta and Nashville. If you can help, drop them a line.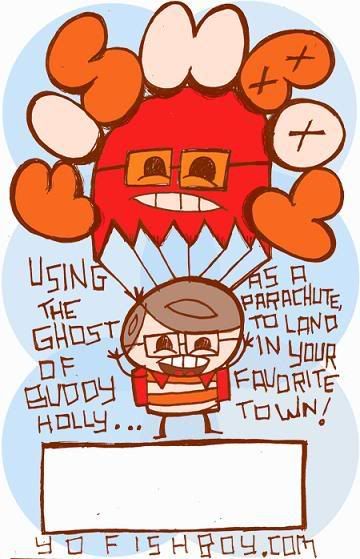 Fishboy on tour:
4/23 The Boom Boom Room, Fayetteville, AR
4/24 The Way Out Club, St. Louis, MO
4/25 Replay Lounge, Lawrence, KS
4/26 Surf Ballroom, Clear Lake, IA
4/27 Borg Ward, Milwaukee, WI
4/28 The Statehouse, Bloomington, IN
4/29 Quencher's, Chicago, IL
4/30 503 Oldham Ct., Lexington, KY
5/01 Charm City Art Space, Baltimore, MD
5/02 The Knitting Factory, New York, NY (w/ The Besties)
5/03 Party w/926 Main Street Apt. 2, Worcester, MA
5/05 6 Barton St., Rochester, NY
5/06 Live on 89.7FM WITR, Rochester, PA (12pm)
5/07 Khyber, Philadelphia, PA
5/08 SPAZZATORIUM GALLERIA!, Greenville, NC
5/09 255 Ashley Ave, Charleston, SC
5/10 Caledonia, Athens, GA
5/13 Lowe Mill, Huntsville, AL
5/15 Cafe Mi Aroma, Chattanooga, TN
5/16 Tomato Tomato, Murfreesboro, TN (w/ Velcro Stars)
5/17 Actor's Cafe, Shreveport, LA
In addition, the band has sent me a copy of their excellent current CD,

Albatross: How We Failed to Save the Lone Star State with the Power of Rock and Roll

to give away.
If you'd like to win it, send me an e-mail with "Fishboy CD" in the subject line by 12pm EST on April 23. Good luck!
Fishboy - Taqueria Girl
Full disclosure: Eric Fishboy sent me
Avengers
#192,
Fantastic Four
#290,
The Thing
#36, and
NFL Superpro
#5 with the CD.
I'm
keeping those. Thanks Eric!
If you didn't catch the video for "Parachute (Using the Ghost of Buddy Holly as A)" last time, it's still awesome: