Wolf Parade announce tour, Atlanta 7/28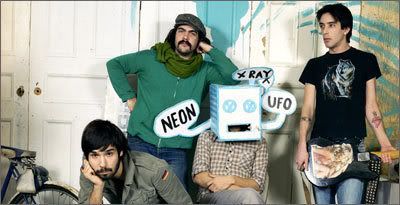 Well, hot damn. With a new album (now called
At Mount Zoomer
) on the way,
Wolf Parade
have announced summer tour dates including July 28 at
Variety Playhouse
. The entire tour appears to be at similar mid-size venues, most considerably smaller than I think they could fill. I imagine tickets will be very tight.
Anybody know the Atlanta on-sale date?
7/07 Crofoot Ballroom, Pontiac, MI
7/08 House of Blues, Chicago, IL
7/09 First Avenue, Minneapolis, MN
7/12 Commodore Ballroom, Vancouver, BC
7/13 Marymoor Park, Seattle, WA (Sub Pop Anniversary Party)
7/15 Crystal Ballroom, Portland, OR
7/17 Fillmore, San Francisco, CA
7/18 Henry Fonda Theatre, Hollywood, CA
7/19 Henry Fonda Theatre, Hollywood, CA
7/20 Cane's, San Diego, CA
7/21 Rialto Theatre, Tucson, AZ
7/24 Palladium Ballroom, Dallas, TX
7/25 La Zona Rosa, Austin, TX
7/26 Spanish Moon, Baton Rouge, LA
7/28 Variety Playhouse, Atlanta, GA
7/29 Disco Rodeo, Raleigh, NC
7/30 Electric Factory, Philadelphia, PA
7/31 Terminal 5, New York, NY
8/02 Paradise Rock Club, Boston, MA
8/09 Koolhaus, Toronto, Ontario
Mmmm.. Wolf Parade:
Wolf Parade - Call It a Ritual
[from
At Mount Zoomer
]
Wolf Parade - You are a Runner and I am My Father's Son
Wolf Parade - Shine a Light
Thanks to Atlanta's own
It Covers the Hillsides
for the tip!
Update: Ticket ordering info in comments...