Friday at Bonnaroo: Cross my heart and hope to rock
Thank goodness it was Friday. After a smaller set of options on Thursday at Bonnaroo, today had a full lineup. The options that caught my eye were a couple of blues-tinged rock bands, some big-time comics, and the headlining set from an alternative act I've been seeing since high school.
The first band on my Friday agenda was
Cold War Kids
. I've seen this indie outfit from Long Beach a few times, with the most recent at Vinyl back in March. Each previous show was damn good, and I expected nothing less from their afternoon slot.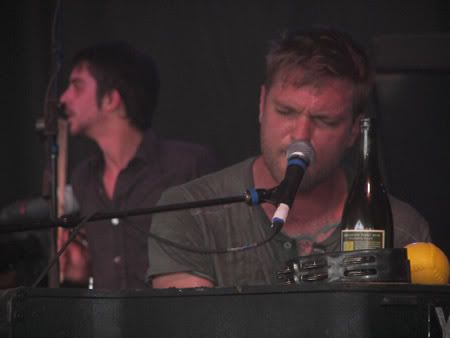 Although I enjoyed their performance, I didn't dig it as much as their Atlanta shows I'd seen. It may be that I missed the intimacy of the club shows, or it may simply have been that from my spot in front of the right stack I was pretty much bombarded with sound. The boys were very, very loud to the point that folks near the front were covering their ears and I spotted band members doing the same. There were also tech and monitor problems, just as their had been for The National on the same stage the night before.
The set itself stuck primarily to songs from
Robbers and Cowards
, although they did included Tom Waits cover "Dirt in the Ground" that segued into "Hospital Beds," as well as Marvin Gaye's "A Change Is Gonna Come." They also played a new song called "Dreams Old Men Dream" that I had not heard. It didn't grab me on first listen but I'll reserve judgment until I can listen to it absent temporary deafness. Overall, a solid set from Cold War Kids that seemed to be well-received by the largely virgin audience.
Cold War Kids - Hospital Beds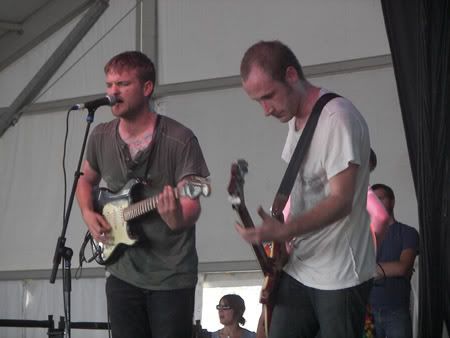 The late afternoon was spent with Lewis Black and supporting comedians including Finesse Mitchell, John Bowman, and Lynne Koplitz. The quartet was fine, but not quite as entertaining as I had hoped. I think I'm a bit tired of lame jokes about sex, drugs, and hippies from comedians at Bonnaroo. Aim higher, gang. It was a bit ironic given a bit that Black did at the start of the performance about anticipation being better than any actual payoff. In this instance, I think he hit the nail on the head.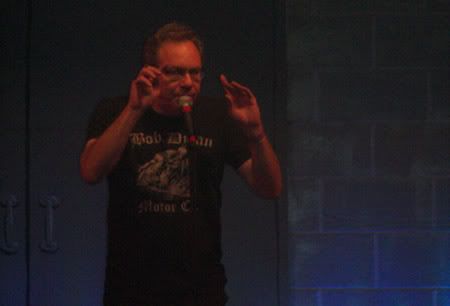 My evening was spent with
The Black Keys
and
Tool
. I only caught part of the set by the former at That Tent, but it whet my appetite for the June 21 gig at Tabernacle in Atlanta. Tool played the main stage as the big act of the night, with most of the schedule cleared while they performed. I hadn't seen them in about five years, and it reminded me of what a great show they put on.
While the logistics of the situation hindered my ability to watch the band itself, which is always a treat, the giant video screens and laser effects the band used made their set a very cool visual and auditory experience. They concentrated on material from
Lateralus
and
10,000 Days
, a good bit of which I'd never seen performed live. A major treat came at the end of "Lateralus" when Tom Morello (The Nightwatchman, Rage Against the Machine) joined Tool on stage for an extended bit of guitar work. Singer Maynard James Keenan also had fun with the crowd, taunting them a bit and declaring David Cross a "deputy sheriff."
The Bonnaroo setlist for Tool (6/15/2007):
Jambi, Stinkfist, The Pot, 46&2, Schism, Rosetta Stoned, Flood, Wings For Marie, 10,000 Days, Lateralus [with Tom Morello], Vicarious, Aenema (via
toolshed.down.net
)
Speaking of David Cross, we capped our TGIF with a performance by him along with Aziz Ansari (of Human Giant) and Nick Kroll (of Best Week Ever). These gents proved a great way to end the night. Kroll performed in his flamboyantly gay
Fabrice Fabrice
[link to Human Giant video] persona and acted as master of ceremonies, and was pretty darn hilarious. He also offered up the most poignant philosophical question of the evening: "What is the difference between Sting and Bono, really, other than really terrible sunglasses?"
Ansari's set was much improved from last year, relying less on simple stories and more on rapid-fire material. Cross, however, won the night. Along with his own takes on stupidity, pets, jingoism, and a host of other topics he also included in his set a "You might be a Deadneck if..." bit incorporating Ansari and Kroll that was pretty darn funny. It might have been more so because I've been in the the South for a few years, but I ate it up. His conversation with God at the end of his set was also gut-bustingly funny, but I'll refrain from spoilers. It was Cross and company's final show (of four) at Bonnaroo, and I'm glad to have seen them.
Now, on to Saturday with The Police and Flaming Lips. Oh, hell yes.