somewhere out west, lonesome for you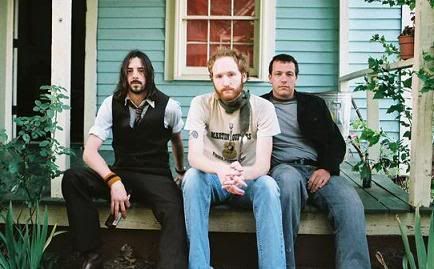 Just when I thought I couldn't get into another band infatuated with wolves or horses, I've gone and done it again.
After being turned on to them by the
AthFest 2007 compilation
, I picked up the current release from
Sleepy Horses
.
Titled
Somewhere Out West, Lonesome for You
the record was released in 2006 to acclaim from regional press. Their sound is a unique one -- they blend the West Texas country roots of vocalist/guitarist Nic Goodson with atmospheric shoegaze. It's certainly unconventional, and it's pretty damn good.
The band has been through a number of lineup changes as Goodson has relocated, and was also stalled in its tracks last year as he faced devastating health issues. However, they appear poised to show the world what they have to offer. Sleepy Horses have
numerous dates booked
in the southeast throughout the summer, and a New York trip in mid-July.
While the album has many outstanding moments, I've been particularly taken with the first track, "Lubbock Love Song." That western guitar
kills
me, and the handclaps (by
Jason Nesmith
?) and Brandi Goodson harmonies are just stellar.
Sleepy Horses - Lubbock Love Song
Somewhere Out West, Lonesome for You
is available
from AthensMusic.net
. For more info see
their Myspace
.