Saturday afternoon at Bonnaroo: A day at the cabaret
Coming to Bonnaroo, it was always obvious that Saturday would be the longest day of the festival. That proved to the case. In the afternoon I caught Gogol Bordello for the first time, as well as seeing nearly all of Damien Rice's set. In the evening I saw Spoon, The Police, and Flaming Lips in that order.

Gogol Bordello's afternoon set was a stunner. The band had been recommended to me a few times, and my goodness am I glad I take such suggestions seriously. I imagine this will hardly be news to many folks, but their "gypsy punk" amounts to an energetic and almost outrageous set. Frontman Eugene Hutz is something like a crazed ringmaster, running all over the stage in colorful attire. The band's seven members include accordion and violin along with the traditional rock setup, as well as two women who sing and play percussion and a rapper/hype man who comes and goes from the stage.


Gogol Bordello had little trouble whipping the early afternoon crowd into a frenzy, and when they played "Start Wearing Purple" a number of audience members whipped purple shirts and cloth in the air. The wild crowd also managed to stir up dust to fill the air under the tent -- an inconvenience, but tolerable.
Gogol Bordello - Start Wearing Purple
One great moment came when percussionist Pamela Racine put her drum out in the crowd and Hutz proceeded to find his way on top of it, where he knelt then stood during part of the encore. So, so good. It now blows my mind that these guys last played Atlanta at
The EARL
.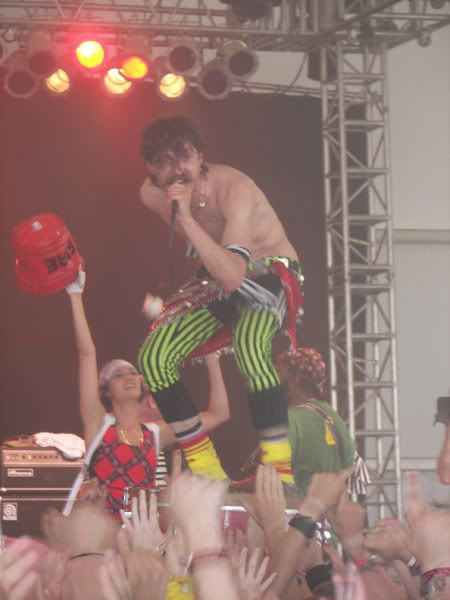 After Gogol Bordello we wandered over to Damien Rice. I don't have much to say about this other than he pretty quickly lost my interest and I was somewhat irritated with all the couples embracing and making out to this sappy singer-songwriter. How effing cliché is that? I hung in there for a while and took advantage of the opportunity to relax a bit before Saturday's big acts on the agenda.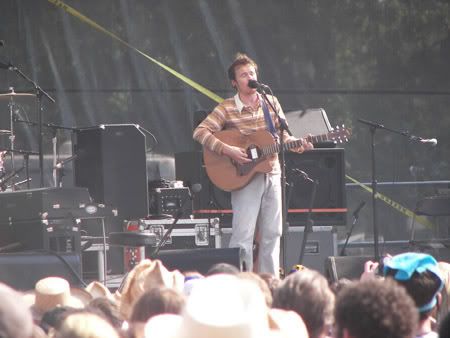 Spoon, The Police, and Flaming Lips rounded out the night. Headed back to the grounds, so more on that later...