Atlanta ticket giveaway: The Preakness, The Yum Yum Tree, Citified at Star Bar, May 30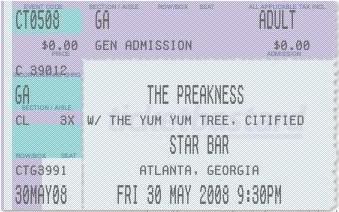 This Friday, May 30, a trio of fine indie bands take the stage at Atlanta's
Star Bar
in Little Five Points.
Citified
(Greensboro, NC) will be in town from North Carolina and play with
The Preakness
(Atlanta) and
The Yum Yum Tree
(Atlanta), making this one heck of a bill. All have been featured here before, so I'll spare you the wordy description. I'll sure as heck try to be there.
The Preakness - I Thought I Was in Control
Citified - Read Like a Number
I have a pair of tickets to this show available to give away. If you'd like them, please e-mail me (see top of sidebar) with "Preakness tix" in the subject line by Thursday, May 29, at 12pm. I'll contact the winner that afternoon. Good luck!