Blossom Dearie - 'Once Upon a Summertime'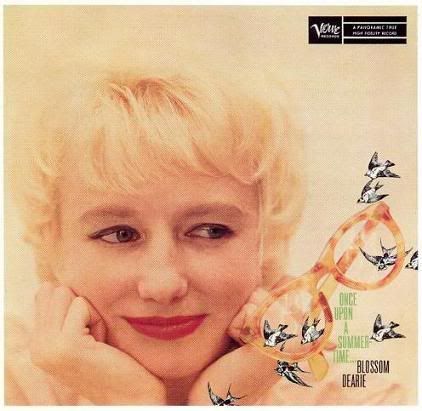 Going through some records recently, I noticed that 2008 marks an even fifty years since the release of Blossom Dearie's classic 1958 album
Once Upon a Summertime
. Dearie was one of the great jazz vocalists of yesteryear, and revisiting her material reveals it still resonates.
She's often classified as a bebop vocalist, but Dearie seems masterful no matter the style -- ballads, list songs, whatever. Her distinctive vocals have a sweet quality that may remind modern listeners of Kimya Dawson or Joanna Newsom, though her delivery differs from theirs substantially. She's truly a classic artist that deserves more recognition. If she's new to you, I'd suggest checking out her other early material on Verve along with
Once Upon a Summertime
.
Blossom Dearie - Moonlight Saving Time
Blossom Dearie - Surrey with the Fringe on Top
Dearie remains hip as ever, and performs regularly. For a more extensive biography, see
her Wiki entry
.