Ladies and gentlemen, the 45th President of the United States
Inspired mostly by Kevin Church's frequent references to them, I recently picked up a variety of reprints of old Star Trek comics. I had no idea, however, that I would be learning the future history of my country.

In Gold Key's Star Trek #9 (February 1971), the crew check out planet Gamma Alpha V, where they meet an assortment of historical figures. Among them is the man bound to succeed Barack Obama in the White House, President Anton York: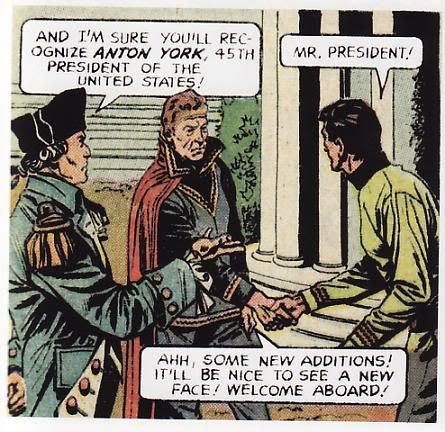 I don't know much about Mr. York, but
he appears to enjoy mountain biking
(just like George Dubya). The picture above suggests that he also enjoys walking around in his pajamas and a cape, which will apparently be presidential apparel by 2017. Godspeed, Mr. President.
Star Trek

#9 by Len Wein and Alberto Giolitti is reprinted in

Star Trek: The Key Collection Volume 2

.