Athens Popfest 2007 lineup released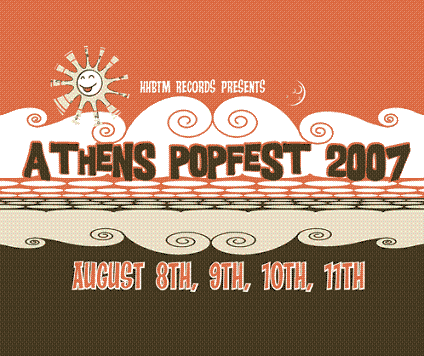 With
Athfest
starting today, it's only appropriate that the list of bands has just been released for the upcoming
Athens Popfest
in August.
Mike from
HHBTM
has once again done a wonderful job of assembling talent for Popfest. Here's the final list of bands as he sent it along:
Daniel Johnston (Danny & the Nightmares), Ted Leo & the Pharmacists, Circulatory System, Tullycraft, Casper & the Cookies, Bunnygrunt, the Instruments, the Postmarks, Elekibass, Dark Meat, We Versus the Shark, Red Pony Clock, the Marbles, thee American Revolution, High Water Marks, Ideal Free Distribution, Cinemechanica, How I Became the Bomb, Kite Flying Society, Cars Can Be Blue, Fishboy, Baby Calendar, Darren Hanlon, Velcro Stars, M Coast, Ryan Anderson, Venice is Sinking, New Sound of Numbers, Patience Please, Turncoats, Ninety Nine, Ryan Anderson, the Smittens, Birds of Avalon, Black Kids, Pipes You See Pipes You Don't, Poison Control Center, Jerk Alert, the Pains of Being Pure at Heart, Laminated Cat, Quiet Hooves, Oh Sanders, Violet Vector & the Lovely Lovelies, Christopher's Liver, Titans of Filth, Hat Company, Mouser, Russian Spy Camera, Paper Tanks, Yellow Fever, Chainestereo, Gemini Cricket, Fabulous Bird, Smokedog, and Folklore.
Wow. Just... wow.
The schedule
is a work in progress, but is being pieced together.
By the way, if any Athens locals have a vinyl copy of
Pylon
's
Gyrate
that looks a bit worn out then the band would like to borrow it for an album cover and compensate you with goodies. Write me and I'll pass along their contact info.