Saturday night at Bonnaroo: We have lift-off
I'm not quite sure where to begin with regard to Saturday evening at the 'Roo. It featured three acts I was thrilled to be seeing at the festival, and none of them disappointed. Spoon, The Police, and Flaming Lips all played entertaining sets, though I'd have to say the latter in particular gets a gold star.

Spoon kicked off my night with a very solid set that drew from throughout their catalog, including a number of selections from the excellent forthcoming Ga Ga Ga Ga Ga. While it lacked the intimacy of their recent Park Tavern show, Spoon is a damn good band and it was apparent.


Britt Daniel and company appeared to enjoy themselves, and their energy was returned in kind by the audience. Spoon was the first band of the festival for whom I actually bothered keeping track of the setlist. Here's what they played, with one song omitted where I couldn't figure out my own notes (I'm awesome):
Don't You Evah, My Mathematical Mind, Stay Don't Go, Someone Something, [not sure], Delicate Place, Rhythm and Soul, Beast and Dragon Adored, Anything You Want, Small Stakes, Paper Tiger, Monsieur Valentine, I Turn My Camera On, Don't Make Me a Target, Everything Hits at Once, Jonathan Fisk, Black Like Me, The Fitted Shirt, The Way We Get By, The Never Got You, I Summon You, Quincy Punk Episode [I think], Eddie's Ragga
I liked hearing the stuff from the new record, and tracks like "I Turn My Camera On" and "Beast and Dragon Adored" remain highlights even after years of listening.
Spoon - The Way We Get By
Spoon - I Turn My Camera On
After Spoon was the biggest act of perhaps the entire festival. The Police took over the main stage on Saturday and the remainder of the schedule was largely cleared. Drummer Stewart Copeland had promised a set full of alternative arrangements and an exploration of the band's jazz side, which had the potential to be amazing if they could pull it together. When all was said and done I left interested and impressed, but hardly overwhelmed.
With all the hype surrounding this tour, the fact that The Police were giving the Bonnaroo gig special attention was an indication that they meant business. After taking the stage (with Stewart in particular grinning widely) they opened with crowd pleaser "Message in a Bottle" before continuing with a few other relatively well-known songs. Here's the opener for your viewing pleasure:
The promised efforts to explore beyond the songs' structures seemed to bear fruit beginning with "Driven to Tears" when Sting, Andy, and Stewart worked extended segments into a few consecutive tunes. Their efforts were at times interesting, and at times off the mark -- Sting's insistence on repetitive vocal "jams" weren't too impressive, but when the band just
played
it was much better.
The extent to which they deviated from their songs' original arrangements varied during the set. A personal favorite, "Every Little Thing She Does is Magic," was performed much as I've come to know it. Shockingly, the band did manage to make "Roxanne" interesting, something which I didn't think would happen again in my lifetime. "Walking in Your Footsteps" was excellent and featured Stewart having way too much fun with his toys; "King of Pain" was played well too and I think it included a section of "Regatta de Blanc" in the middle that Sting tried to use for a call-and-response bit with the audience. "Tried" is the operative word, as it seemed the largely young crowd was sometimes either apathetic about participation or just simply didn't know the words Sting expected them to sing.
Although I enjoyed the set, I remain puzzled about how it concluded. After a song (maybe "King of Pain") Sting abruptly left the stage without explanation, and was followed by the band. There was little applause in response as it wasn't clear the set was
over
, and many people couldn't see the band on stage anyway. The band returned very quickly to continue their set (or so it seemed). They repeated this process two songs later and returned for another song and a bow. Perhaps it was clear to others that they were done, etc., but judging from the lack of crowd response each time they left the stage I'm not so sure. Anyhow, it was (for me, anyway) a somewhat confusing ending to a nice if imperfect performance.
The full setlist for The Police at Bonnaroo, for those of you keeping score:
Message in a Bottle, Synchronicity II, Walking on the Moon, Driven to Tears, Voices Inside My Head/Best of What's Still Around, Truth Hits Everybody, Every Little Thing She Does Is Magic, Wrapped Around Your Finger, The Bed's Too Big Without You, De Do Do Do De Da Da Da, Walking in Your Footsteps, Can't Stand Losing You, Roxanne, King of Pain, So Lonely, Every Breath You Take, Next to You [courtesy
Police Tour 2007 blog
]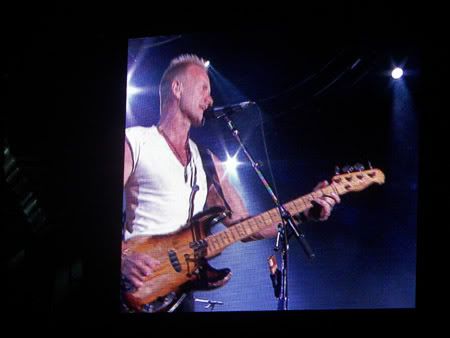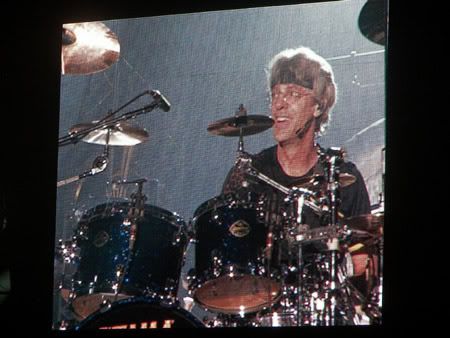 The midnight show I attended on Saturday night was that of the
Flaming Lips
. They're always great live, and they had been hyping their Bonnaroo set for months. The band promised a UFO landing in their promo materials, and I'm not quite sure how I could have passed that up.
We got to the stage an hour early, in time to see the Lips soundcheck by playing "War Pigs" (Black Sabbath!) in front of thousands of fans. They then took an hour break before their official start time.
With regard to the theatrics, they delivered as promised. Just about midnight, a countdown began and their spaceship began to descend from the rafters. It was, simply put, awesome. Once it found its way to the stage from above, a ladder was dropped and the band members other than Wayne Coyne (vocalist) came out and took their places. Wayne them appeared at the top of the spaceship inside the giant hamster ball he's been entering shows with for the past couple(?) years. He walked down the side of the spaceship inside the ball and the set was ready to begin. I've never seen anything like it, and I doubt I will any time soon.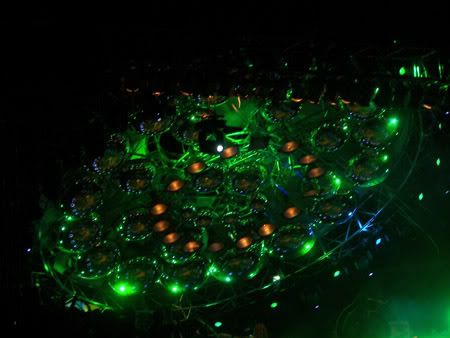 Beyond their spaceship, the band supplied its usual great stage show. Liberal use of video, lasers, bullhorns, balloons, confetti, streamers and the like made the show outrageous and fun. Female dancers dressed as Santa Claus and extraterrestrials lined the stage as well, dancing enthusiastically.
Musically, the show was impressive although perhaps not as tight or well-paced as some of their prior shows I'd attended. It was pretty amazing nonetheless. Such nit-picking seems somewhat beside the point given how much Coyne chose to chat up the Bonnaroo crowd and enjoy the moment. The setlist was mostly comprised on material from their three most recent albums (since
Soft Bulletin
), although other treats were included. Coyne introduced the rocking "Mountain Side" by saying they hadn't played the song live since 1996. "Race for the Prize" was a treat, and the "Yoshimi" combo and "The Yeah Yeah Yeah Song" were particularly fun for me.
There's a possibly incomplete setlist for the show posted
on the Flaming Lips message board
, but after glancing at the thing it looks pretty accurate. The fact that I'd seen the band play a show of similar scale at Centennial Park last summer kept me from being totally blown away, but it was a
great
production.
It seemed the audience appreciated the extra effort by the band and their obvious admiration for the Bonnaroo crowd, and the band appreciated the crowd's enthusiasm to along for the ride. Coyne and company parted the stage in their spaceship after the encores, but I imagine they'll emerge again.
Comments on Sunday to come in the near future. It's time for some recuperative sleep...