Quit Your Dayjob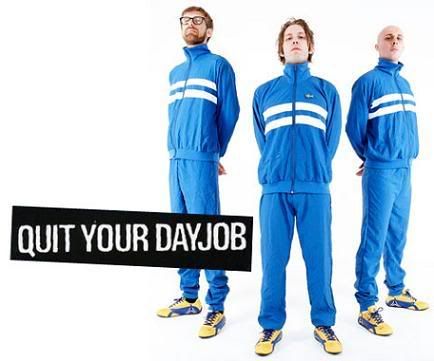 So, it turns out there
is
music being made in Sweden beyond perfect pop. Swedish synth/surf-punkers
Quit Your Dayjob
released their
Open Up, Coconut!
back in February, but only now have I been giving it some spins. This is some seriously fun (and sometimes
funny
) stuff.
Open Up, Coconut!
packs 13 tracks into a mere 21 minutes, riding a wave of fat synth tones and wicked guitar briskly from start to finish. Their sound has a strong vintage quality, but I'll be darned if those synthesizers aren't tugging them onward toward Buck Rogers territory.
With vocals reminiscent of Jello Biafra
and
Fred Schneider (yes, seriously) and instrumentation like a menacing Bizarro Devo, these guys are both fun
and
dark. I won't argue that
Open Up, Coconut!
is a masterpiece, but it sure is a hoot to play and bounce around like an idiot. On that note, my apologies to my downstairs neighbors.
Quit Your Dayjob - Freaks are Out
Quit Your Dayjob - Sweden We Got a Problem
Quit Your Dayjob - Vlado Video
For more on Quit Your Dayjob, see
their Myspace
. To quit
your
day job, see your employer.