The Echo Project festival -- Atlanta area, October 12-14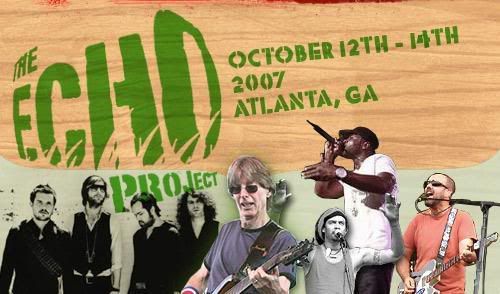 Well, this came out of nowhere. At least I hadn't heard a peep about it.
Apparently tomorrow, July 31, tickets go on sale for
The Echo Project
music and arts festival on October 12-14. It will take place south of Atlanta and attendees will be able to camp on-site. I never cut and paste press releases, but I'll make an exception here because there's a lot to process. Here 'tis:
Atlanta, Georgia (July 30, 2007) – The Echo Project kicks off its annual eco-responsible music and arts festival in Atlanta, Georgia this October 12 – 14, 2007. The three-day, multi-stage camping festival will be held on 350-acres of scenic Chattahoochee river front property on a privately owned 1250-acre farm just south of metropolitan Atlanta. With a green focus and philosophy, The Echo Project is set to revolutionize how music and arts events affect our environment through eco-friendly event production by ways of carbon emissions, power consumption and creation, alternative energy sources, and waste management and recycling initiatives. For its inaugural event, The Echo Festival along with Sustainable Waves and Rivers Alive is also launching a major Chattahoochee river clean up prior to the festival. Tickets go on sale Tuesday, July 30th and are available at www.the-echoproject.com.
Featuring a diverse range of talent, from rock to hip-hop, The Echo Project also announced its first round of performers today, which include The Killers, Phil and Friends, moe., Stephen Marley, The Roots, Cypress Hill, Polyphonic Spree, Michael Franti and Spearhead, Umphrey's McGee, Rodrigo Y Gabriela, The Disco Biscuits, Cat Power and Dirty Delta Blues, Brazilian Girls, The Avett Brothers, Lyrics Born, RJD2, Toubab Krewe, Spam Allstars, ALO, Greenskeepers, and Afromotive.
The Echo Project is promoted by Nicholas Bouckaert of Rivertown Entertainment, LLC. in conjunction with Meatcamp Productions. Greening partners include Sustainable Waves, a national provider of mobile solar powered sound and staging solutions; Green Mountain Energy Company, the nation's leading provider of cleaner electricity and carbon offset products; and the Environment Media Association (EMA) which mobilizes the entertainment industry in a global effort to educate people about environmental issues and inspire them into action.
Tickets go on sale for The Echo Project on Tuesday, July 31 at 10 AM EST. Three-day tickets begin at $145 and are available online at www.the-echoproject.com and 1-800-594-TIXX.
Looks like a very Bonnaroo-type lineup, with goodies for the hippies and the hipsters. Nearly has a price tag to match too, unfortunately. Still, looks like a good time for a good cause.