Contest: Red Pony Clock CD giveaway!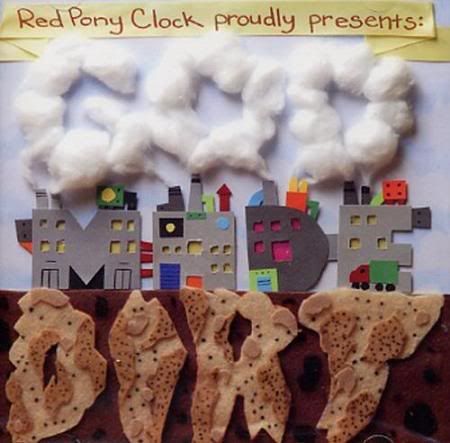 Thanks to C&T's friends at
Happy Happy Birthday To Me
, I have available three copies of
Red Pony Clock
's new album
God Made Dirt
. These San Diego popsters have been touring like mad for the last while and were among the crowd favorites at this year's Athens Popfest. I understand many vendors are sold out of their allotments of this record, so here's a chance to pick it up for the price of sending an e-mail. If you want to enter, just send me a note with "RPC" in the subject line. I'll pick three winners at random
on Wednesday, October 17
.
I've listened through the record a few times, and this is a fun one. Red Pony Clock's score of members plink or play a wide variety of instruments, and there's little doubt they're having a ball while doing it. Horns, xylophones, etc., are present throughout and provide numerous layers of texture. There's a strong hint of mod influence, and plenty of moments reminiscent of Daniel Johnston's shaky charm or the clever quirkiness of a Stephin Merritt or Jens Lekman. "My New Best Friends" and "12-Color Step" even wander into the realm of ska.
God Made Dirt
is pretty much one 40-minute carousel ride.
Red Pony Clock - Joshua
Red Pony Clock - 12-Color Step
For more on Red Pony Clock, visit
their Myspace
. A total of 1000 copies were pressed, and you can order them
from HHBTM
.