This one's for you, Seth Cohen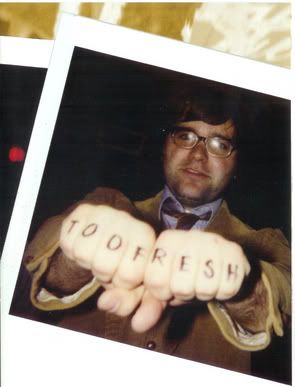 Now that the Sunday political shows are over and I'm about to get back to work (it's a stats day), I thought I'd throw up another quick post. My 'Ben Gibbard' folder is snugly nestled a few down from my 'Beck' folder, and when I saw these I thought they'd be fun to share.
Here a few live covers by Ben Gibbard (of Death Cab, of course) that have been floating around for a while. Go nuts.
Ben Gibbard - The Saddest Story Ever Told [Magnetic Fields cover]
Ben Gibbard - Thriller [Michael Jackson cover]
Ben Gibbard - Complicated [Avril Lavigne cover]
Ben Gibbard - Girls Just Wanna Have Fun [Cyndi Lauper cover]
If that's not enough, here are a few covers by Gibbard's DCFC bandmate Chris Walla. One's been featured here before, but what the hell.
Chris Walla - Shattered Dreams
[Johnny Hates Jazz cover]
Chris Walla - Too Gone
[The Connells cover]
Chris Walla - Cupid
[Sam Cooke cover]
Thanks to Walla and Hall of Justice for hosting his tracks. More of his recordings are available
here
.