Arum Rae brings the blues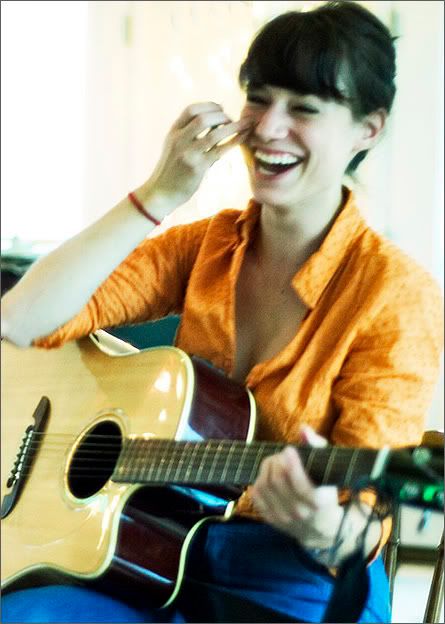 While peeking at my Chainestereo write-up in this week's
Flagpole
, I noticed the entry right below it. It previews a show this Friday night (June 1) at
Tasty World
with
King of Prussia
,
Russian Spy Camera
,
Morningbell
, and Virginia native
Arum Rae
. While the first three bands are familiar to me, I had to seek a little knowledge about the latter.
Already having earned accolades in her home region, Arum Rae has been branching out to venues up and down the east coast. A rather versatile performer with one hell of a voice, she ventures into both blues-based swamp rock and sweet country with jazz sensibilities. A graduate of the famed Berklee College of Music, she recorded her debut LP,
Too Young to Sing the Blues
, with the assistance of musicians who had previously played alongside such luminaries as Ani Difranco, Tom Waits, and Paul Simon. Most... impressive.
Fortunately for those of us in Atlanta, we'll get two chances to see her this week at
Eddie's Attic
(6/2, open mic shootout) and
Smith's Old Bar
(6/4, $5). I'd suggest the Smith's show for a full set, but I'm sure she'd appreciate the support at Eddie's on the way to that prize money.
Arum Rae - Lookin' for Love
Arum Rae - Home
In June, Arum Rae plays throughout the southeast and on onward to Colorado. Her tour, beginning tonight in Birmingham:
5/31 The Nick, Birmingham, AL
6/1 Tasty World, Athens, GA
6/2 Eddie's Attic, Decatur, GA
6/4 Smith's Olde Bar, Atlanta, GA
6/8 Sentient Bean, Savannah, GA
6/9 The Bone Yard, Swainsboro, GA
6/10 Beach Party, Jacksonville, FL
6/12 The Surrey Tavern, Augusta, GA
6/13 Home Team BBQ, Charleston, SC
6/14 Cumberland's, Charleston, SC
6/15 21 Eleven, Greenville, NC
6/16 Motorcycle Camp Night in BlueGrass, Blue Grass, VA
6/23 Three Kings Tavern, Denver, CO
6/29 Highland Pacific , Denver, CO
6/30 Cactus Jacks, Evergreen, CO
For more information on Arum Rae, see
her Myspace
. You can buy
Too Young to Sing the Blues
from CD Baby
.