C&T in The Loaf and ATL weekend happenings
First off, there's a wee bit of an unintentional C&T media blitz this week. The blog (along with yours truly) is featured in this week's Creative Loafing, and I also have a profile of Chainestereo in the Athens-based Flagpole weekly. Neat.

Lots of stuff going on this weekend in Atlanta... here's what catches my wandering eye:


Friday, June 1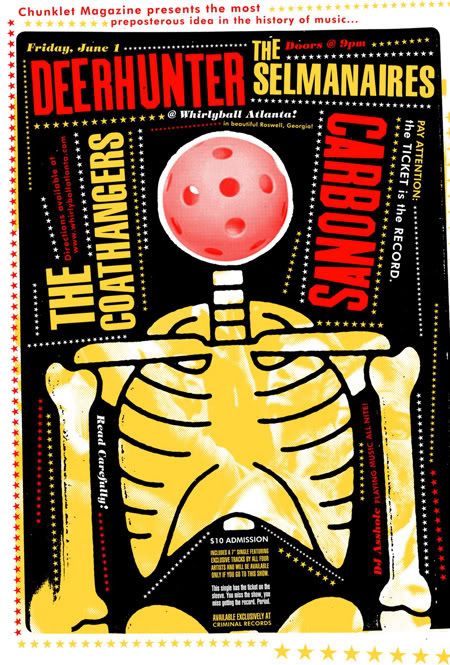 Friday night at
Whirlyball
in Roswell is a long-anticipated show with a stacked bill --
Deerhunter
,
The Selmanaires
,
The Coathangers
, and
The Carbonas
all share the stage. If you've been paying attention you know that tickets to this shindig are available only at Atlanta's
Criminal Records
, and your $10 gets you both admission and a limited 7" with exclusive tracks from each of the bands. Now you can play "
Nestle in My Boobies
" (the song, pervert) on your very own hi-fi phonograph system. Rejoice! The show is sponsored by the folks from
Chunklet
.
Deerhunter - Spring Hall Convert
The Selmanaires - Selmanaire Rock
The Coathangers - Parking Lot
The Carbonas - Lost Cause
For those of you who are out of town, Lillian at Criminal has informed me that the limited 7" with these bands
is now available for mail order
. The phone number to call is on
the Criminal website
. You're welcome.
Also on Friday night is a terrific pop showcase at
Star Bar
, with
Casper & the Cookies
,
M Coast
, and
Chainestereo
all in the house. Kinda funny they'll be performing at the home of the Redneck Underground movement, but I'll take it. This lineup also plays at the
Caledonia Lounge
in Athens on Thursday, May 31.
Casper & the Cookies - Sid from Central Park
M Coast - Sail Around the World
Chainestereo - Magnetic South
Saturday, June 2
Saturday night two of my favorite local acts,
The Selmanaires
and
Anna Kramer
, play at
Lenny's Bar
. The show is a benefit for
Young Blood Gallery and Boutique
, and will also feature a raffle, silent art auction, and door prizes. Should be lots of fun.
The Selmanaires - Images
Anna Kramer - I Can't Take It
Over at
The EARL
on Saturday there's a great lineup including
Mitch Easter
(of Let's Active), Tim Lee 3, and C&T faves
The Preakness
. Mitch Easter is known not only for his membership in
Let's Active
, but also for his extensive collaboration with those R.E.M. dudes. He is currently touring to support his album
Dynamico
released in March. The Preakness go on first around 10pm with their brand of lo-fi driving pop.
Mitch Easter - Sudden Crown Drop
The Preakness - What They're Saying
Mitch Easter will also play a free, all-ages show at the
Aurora Coffee
location in Virginia Highlands on Saturday at 3pm. Huzzah.
If you're looking for something low-key in Atlanta on Saturday night, you might consider attending a screening of HBO's new comedy series "
Flight of the Conchords
." Note that one-half of the parody folk duo in the show is the male lead from
Eagle vs. Shark
. Doors open at 9pm, and the screening starts at 9:45. You can
RSVP online
if you'd like to attend.
Flight of the Conchords - Issues (aka Think About It)
Flight of the Conchords - Hiphopopotamus meets the Rhymenoceros
I am now officially looking forward to seeing these guys in the comedy tent at Bonnaroo.
No excuse for being bored. For more local happenings, see
atlantashows.org
.