The Lucksmiths, Ladybug Transistor tour, in Athens 10/2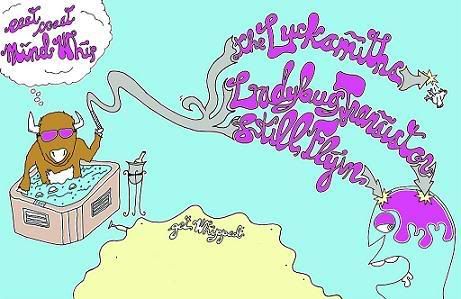 Tomorrow night in Los Angeles, Australian twee/pop pioneers
The Lucksmiths
begin their American tour. As reader Sara F. pointed out, their journey includes a visit to
Caledonia Lounge
in Athens on October 2, when they'll have Brooklyn indie popsters
Ladybug Transistor
along for the ride. I'd be excited for either à la carte, but to get them both in a combination platter is terrific. Mmmmm...
The Lucksmiths - Camera Shy
The Lucksmiths - Midweek Midmorning
Ladybug Transistor - Three Days from Now
Ladybug Transistor - A Burial at Sea
Ladybug Transistor - Song for the Ending Day
The tour to come, and who is on the bill in each fair city:
The Lucksmiths, Math and Physics Club
9/21 El Cid, Los Angeles, CA
9/22 Reds Cafe, Santa Barbara, CA
The Lucksmiths
9/23 12 Galaxies, San Francisco, CA
9/24 Crocodile Cafe, Seattle, WA
9/25 Holocene, Portland, OR
The Lucksmiths, The Brunettes
9/26 Schuba's, Chicago, IL
Lucksmiths, Ladybug Transistor, and Still Flyin'
9/27 TT the Bears, Cambridge, MA
9/28 Knitting Factory, New York, NY
9/29 Europa, Brooklyn, NY
9/30 DC 9, Washington, DC
10/1 Duke Coffee House, Durham, NC
Lucksmiths and Ladybug Transistor
10/2 Caledonia Lounge, Athens, GA
Ladybug Transistor and Still Flyin'
10/3 Village Tavern, Mt. Pleasant, SC
To hear more from The Lucksmiths, check out
their Myspace
. Same goes
for Ladybug Transistor
.