Laura Veirs @ The EARL, May 23, 2007
I made what was surprisingly not a tough decision last night -- I opted to skip the Lost season finale in favor of seeing Laura Veirs at The EARL. I rarely anticipate particular shows all that much these days, but I was very much looking forward to seeing Laura's first visit to Atlanta.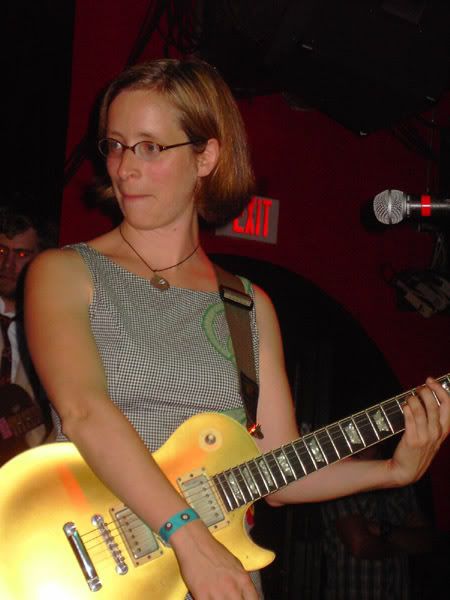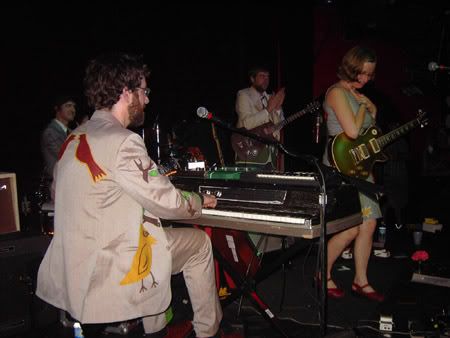 The charming Veirs delighted the crowd with about 90 minutes of her indie folk, drawing primarily from her current record
Saltbreakers
but also performing selections from
Year of Meteors
and
Carbon Glacier
. As is evident in the photos above, the band took the stage in custom stage outfits with Veirs even having an "LV" guitar stitched onto her dress. She seemed pleased and almost surprised to be greeted by an enthusiastic crowd.
The band was a bit handicapped, as bassist
Karl Blau
was suffering from a toothache and was replaced by Eli Moore of opening band
Lake
. However, Moore had apparently picked up some of the songs during the tour and otherwise learned his parts during the soundcheck. Given the circumstances, Moore performed admirably. Pianist/organist Steve Moore (no relation) and drummer Tucker Martine were also a joy to watch, particularly as they exchanged knowing looks with their pinch-hitting bassist.
Throughout the set the band reminded me why I'm so fond of
Saltbreakers
-- songs like the title track and "To the Country" managed to be both grandiose and sweet. The latter was a fun romp, with Lake's Ashley Eriksson singing harmonies and the audience contributing a good bit of clapping. Another fun moment came when the band experienced some minor technical difficulties -- the impromptu banter turned into a band fashion show while Laura and the gents showed off their duds and the keyboardist provided background music akin to what you'd hear during the
Showcase Showdown
. The biggest crowd response of the night might have been to "Galaxies," which may also have been the most rockin' track of the evening. Veirs performed a pair of songs solo in the middle of the set, which along with songs like "Nightingale" and "Black Butterfly" provided some of the night's softer moments. It was an enjoyable evening, and the band seemed to enjoy it as much as the crowd.
A few tracks from the show, because I've had time to edit them while waiting for tonight's
Lost
to show up on the ABC site...
Laura Veirs - Saltbreakers [live 5-23-2007]
Laura Veirs - Galaxies [live 5-23-2007]
Laura Veirs - To the Country [live 5-23-2007; w/ Ashley Eriksson]
For Laura Veirs tourdates, check out
her official site
.